Northeast Frontier Railway's Plan Bee wins Best Innovation Award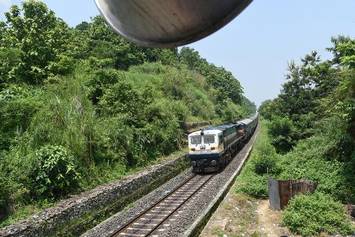 A unique strategy adopted by Northeast Frontier Railway (NFR) called 'Plan Bee' to keep wild elephants away from train tracks has won the 'Best Innovation Award' in Indian Railways for the 2018-19 fiscal. The prize is awarded by Indian Railways and comprises of a citation and a cash award of Rs.3 lakh.
What is Plan Bee?
It is an amplifying system that imitates the buzz of a swarm of honey bees to keep wild elephants away from railway tracks.
Many studies suggest that elephants are scared of swarming bees thus this device was designed to generate amplified sound of honey bees audible from about 700-800 metres.
First such instrument was installed at a level crossing west of Guwahati in Assam on a track adjoining Rani Reserve Forest, an elephant habitat.
NFR now has 46 such devices installed at vulnerable points.
Significance: As per the study conducted Plan Bee device has been helpful in diverting herds of elephants, especially when trains approach and dashing becomes imminent. Also as per NFR officials, a mix of Plan Bee and other measures have helped them save 1,014 elephants from 2014 to June 2019.
Background
There are 29 earmarked elephant corridors with operating zone of Northeast Frontier Railway spread across north-eastern states of India and some parts of Bihar and West Bengal. Trains passing through are required to slow down at these corridors and adhere to speed specified on signs.
But in past elephants have ventured into path of trains even in non-corridor areas, often leading to accidents resulting in elephant deaths. NFR's Rangiya Railway Division (one of the five railway divisions under NFR zone of Indian Railways) and Forest Department field officials have worked on certain deterrents and provide a solution to the problem.
But the desperation to find an 'elephant repellent' was triggered when 67 pachyderms were knocked down by trains from 2013 to June 2019. Most of these elephant deaths cases were reported from Assam and northern West Bengal.
Thus in a bid to tackle this problem, NFR came up with 'Plan Bee' in 2017 and installed devices at several level crossings in state to play sound of buzzing honey bees to drive away pachyderms.
Testing: A team then tested Honey Bee Buzz on a domestic elephant in north-eastern Assam's Rangapara and 1st such instrument was installed at level crossing gate between Azara and Kamakhya stations under Rangiya Railway Division. Later, a 2nd test at tea estate under Rangiya Division proved successful on a herd of wild elephants.
Month: Current Affairs - July, 2019
Category: Environment Current Affairs
Topics: Best Innovation Award • elephant corridor • Elephants Deaths • NFR's Rangiya Railway Division • Northeast Frontier Railway • Plan Bee
Latest E-Books