National Security Guard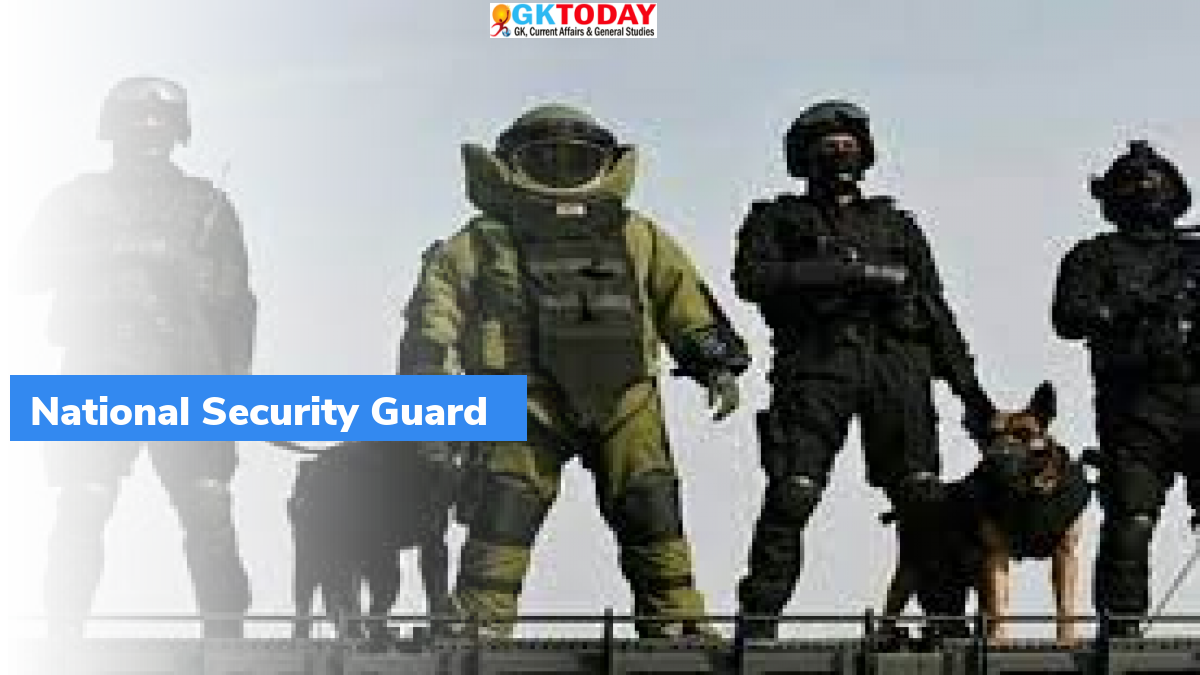 The National Security Guard (NSG) is a counter terrorism unit operating under the Ministry of Home Affairs. It was established on October 16, 1984. The NSG was established under the National Security Guard Act, 1986.
Background
The NSG was established following Operation Blue Star and the assassination of the former Prime Minister Smt Indira Gandhi.
About NSG
The NSG personnel are at times referred to the Black Cats. It is intended to be used only during exceptional situations. However, their role has been expanded over the years to provide personal security to the politicians due to the threats faced by them. In any situation, the NSG cannot take over the functions of the para military forces or the state police forces. They are trained to conduct counter terrorist attacks. This includes counter hijackings on land, sea and air. The NSG is modelled on British Special Air Service and Germany GSG 9.
Organisation
The headquarters of NSG is located in New Delhi.
Special Action Group
There are two Special Action Groups (SAG) operating under NSG. They are the major counter terrorist arm of NSG. The members of SAG are drawn from the Indian Army.
Special Ranger Group
The Special Ranger Group (SRG) is used along with the Special Action Groups. Just like SAGs they are also deployed in counter terrorism and anti-hijacking operations. They also provide special security services to India's higher officials. Eg: Defence Minister. The members of SRG are drawn from Border Guarding Force (BSF), Assam Rifles, ITBP (Indo Tibetan Border Police Force), SSB (Sashastra Seema Bal), CRPF (Central Reserve Police Force), CISF (Central Industrial Security Force).
Special Composite Group
The NSG has set five regional hubs. They are called the Special Composite Groups (SCG). It is formed from personnel in CAPF (Central Armed Police Force) and also from the Indian Army. They are deployed in counter terror operations within their zones. The five regional hubs are in Mumbai, Gandhinagar, Kolkata, Hyderabad and Chennai.
Electronic Support Group
It provides communication and technological support to the NSG.
National Bomb Data Centre
The centre operates under NSG. It monitors, records, analyses the bombing incidents in the country. Also, it analyses bombing incidents across the world.
Topics: National Security Guard
Latest E-Books