Mysuru Dasara Festival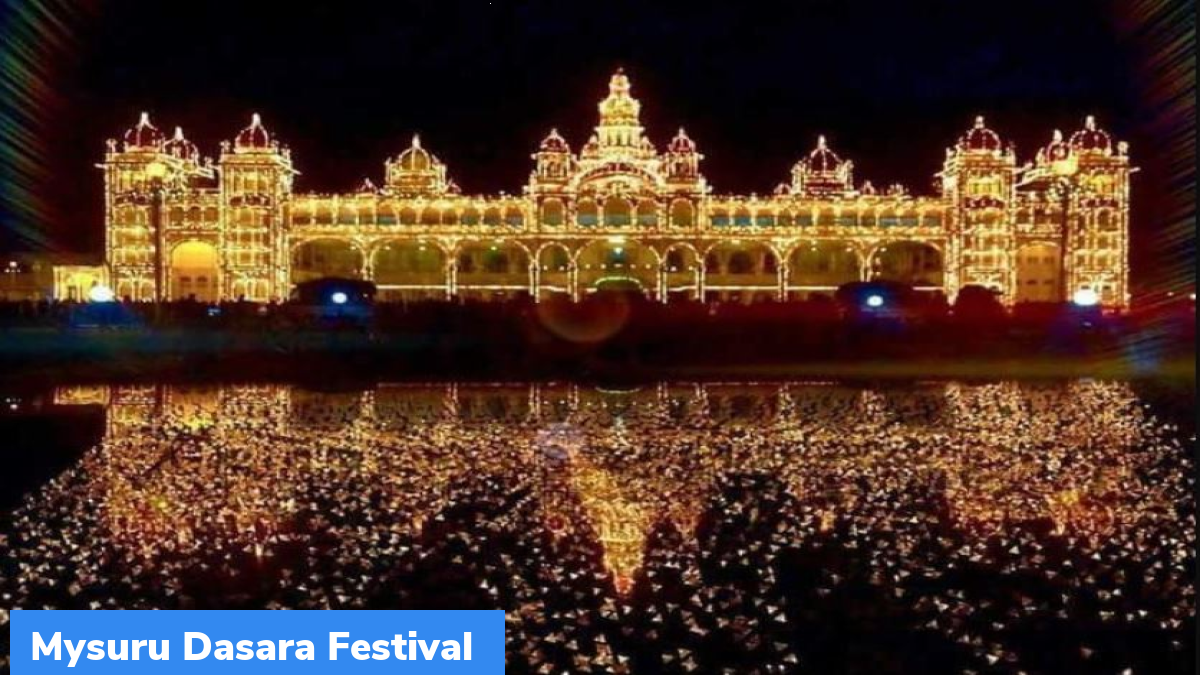 Mysuru Dasara Festival was celebrated from September 26 to October 5 this year.
Key facts
Mysuru Dasara is a 10-day festival that commences with Navratri and concludes during the Vijayadashami.
It is usually observed on the 10th day of the Hindu calendar month of Ashvina, which usually falls on September and October.
The festival is observed to celebrate the victory of Goddess Chamundeshwari of Chamunda Hills (Durga) against Mahishasura (a buffalo-headed demon). The slaying of the Mahishasura gave the city the name Mysuru.
Its origins can be traced back to 15th century during the rule of the Vijayanagara Empire.
It finds mention in Matla-us-Sadain wa Majma-ul-Bahrain (The Rise of the Two auspicious constellations and the Confluence of the Two Oceans) – a book written by a Persian ambassador Abdur Razzaq. This memoir covers the history of the region from 1304 to 1470.
While the celebration of Mysuru Dasara was halted after the fall of the Empire, it was revived in the early 17th century Raja Wodeyar I in 1610.
The festival commences with a Pooja privately performed in the presence of the royal family and the state officials in Goddess Chamundeshwari Temple on the Chamundi Hills, situated east of Mysuru.
One of the main attraction of this festival is Jumboo Savari – the traditional Dasara procession held on the streets of Mysuru. In the procession, the idol of Goddess Chamundeshwari will be kept on a golden mantapa atop a decorated elephant.
During the festival, the Mysuru palace will be lit up throughout the 10 days with 100,000 light bulbs.
Numerous religious and cultural activities of Karnataka are organized in the Mysuru Palace during the festival.
The famous Mysuru Exhibition is held during the festival. It was started in 1880 by Maharaja of Mysore, Chamaraja Wodeyar X to showcase innovation and development to people in Mysuru. Now, this event is organized by the Karnataka Exhibition Authority.
Mysuru Dasara Festival is celebrated in which month of Hindu calendar?
During reign of which dynasty, Mysuru Dasara Festival started?
In which book of Abdur Razzaq, Mysuru Dasara Festival is mentioned?
Matla-us-Sadain wa Majma-ul-Bahrain
Jumboo Savari is main attraction of which festival?
Which King started Mysuru Exhibition?
Month: Current Affairs - October, 2022
Category: Art & Culture Current Affairs • Events Current Affairs • States Current Affairs
Topics: Festivals • Festivals in India • Indian culture • Indian Festivals • Karnataka • Mysore Dasara • Mysuru
Latest E-Books