Mumbai girl becomes the youngest to climb South America's highest peak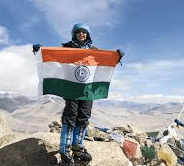 Kaamya Karthikeyan a student from Mumbai, recently became the youngest girl in the world to scale Mt Aconcagua. Mt Aconcagua is the highest peak in South America, located in Argentina. It is the highest peak outside Asia with the height of 6962 metres.
The student of Navy children school has already scaled the some of the highest peaks in Africa, Europe, and Australia in the past.
Topics: Geography of South America • Mountaineering
Latest E-Books