Mes Aynak Site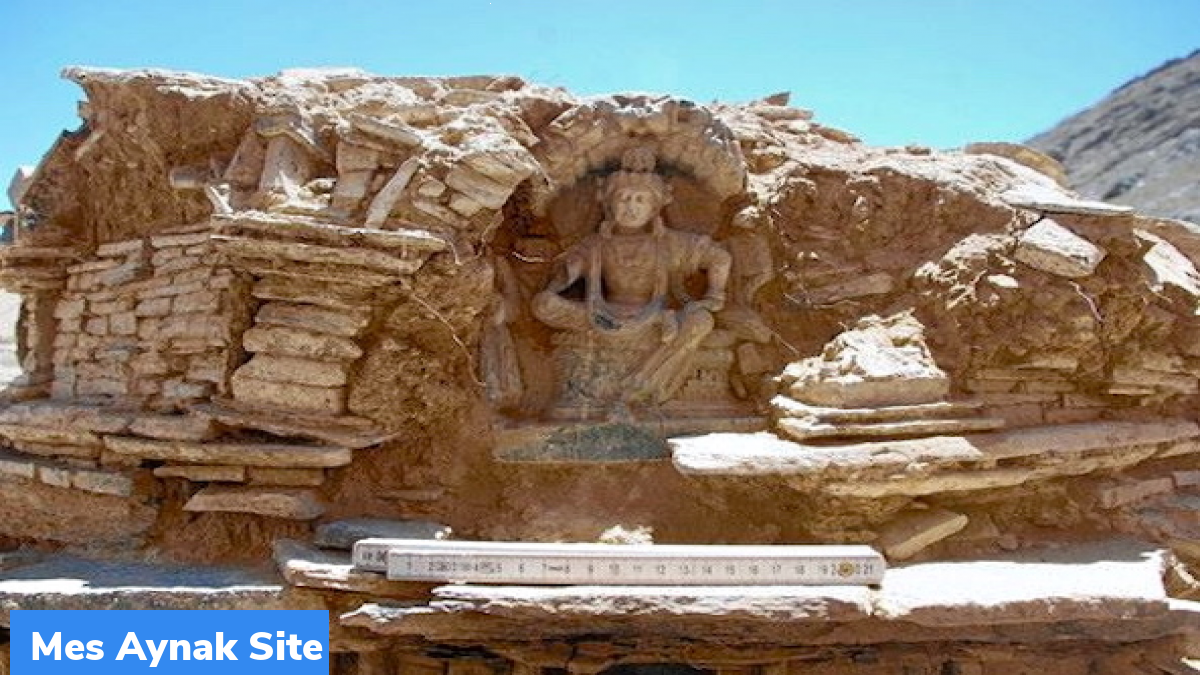 Mes Aynak is a site that is located 40 km southeast of Kabul, Afghanistan. It is located in the Logar Province's barren region. This region contains the largest copper deposit in Afghanistan. Also, in this region, there are remains to be found of an ancient settlement that has 400 Buddha stupas, statues, and a monastery complex of 100 acres.
Overview:
The remnants of a Bronze Age site that is 5,000-year-old are being discovered by Archaeologists beneath the Buddhist level. The discoveries include an ancient copper smelter.
This site is said to be one of the most important archaeological sites that is present in the silk road.
This site also houses a vast complex of Buddhist homes, monasteries, and market areas.
From this site artifacts have been recovered that date back to the Bronze Age, with some dating back over 3000 years.
As this site is situated on the Silk Road, a lot of Indian and Chinese products have also been found.
Afghanistan is trying to unearth the copper that has been found below this site which is causing destruction to this site.
This site has been photographed by Archaeologists and the relics have also been excavated.
In 1973-74, the archaeological wealth of this site was discovered by Afghan and Russian geologists.
History of this site
Between the 5th and 7th centuries AD, this site reached its peak. Coins that were used during the period of Mehama and Khingila, the Alchon Hun rulers were found at this site which confirms their presence in this area in 450-500 CE.
In the 8th century, the decline of this site began in the 8th Century, and 200 years later the settlement was abandoned. Brahman Shahi, the king of Kabul, Jaypaldeva ruled this site during the 10th century but later this site was burned down by a Ghaznavid invasion.
Citizens of this site
Mes Aynak citizens mostly followed Hinduism and Buddhism. From the Kushan era, the earliest dated Buddhist remains have been found. Later they gave way to Uyghur and T'ang Chinese influences.
Mining lease for this site
In 2007, the China Metallurgical Group (MCC) was granted a 30-year lease for the amount of USD 3 billion. This mine has been estimated by the afghan mining ministry to hold around six million tons of copper. The value of this mine is expected to be billions of dollars, and it will also generate economic activity for the country. But this mine threatens the archaeological remains of this site. In 2001, the Taliban had demolished Buddhist statues that were present on this site, but at present, they have had a change of heart and are willing to preserve this site as it contains copper, and are willing to strike a deal with China for economic benefits.
Month: Current Affairs - April, 2022
Category: Art & Culture Current Affairs • International / World Current Affairs
Topics: Afghanistan • Bronze Age • Buddhism • Hinduism • Silk Road
Latest E-Books