Maqbool Fida Husain
Maqbool Fida Husain (1915-2011), India's most charismatic and most internationally recognised painter, was romance personified in both work and life. Husain's crime was that he had painted Hindu gods and goddesses, in the nude sometime in the 1970s. Though there are many examples of Hindu deities depicted in the nude in exquisite ancient temple sculptures, the Hindu right wing hounded him out of India.
He was born on September 17, 1915, in a poor household in Pandharpur, Maharashtra. His father was a timekeeper in a small mill and had the additional responsibility of bringing up his motherless son. Hussain had lost his mother when he was an infant. He remained a devotee of women and womanhood for the rest of his life.
As a co-founder of Progressive Art Group

Hussain went to study at V.D. Devlalikar's art school in Indore while in his teens. The family's finances were strained, but it somehow managed to send him to the school of Devlalikar because he was a respected artist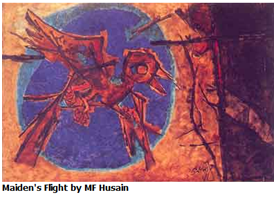 and teacher who painted in the Indian style. Its worth note that other famous artists such as S.H. Raza, H.A. Gade and Ingole had also studied under Devlalikar.
The paucity of resources led Husain to move to Bombay where he became a painter of huge film banners. He also studied for a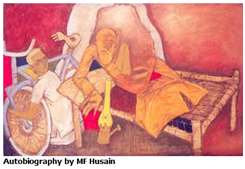 while at the Sir JJ School of Art. Later, he came into contact with the Austrian expressionist Langheimer and the art critic Rudy Von Leydon, both refugees from Hitler's Nazi Germany. These two men played a seminal role in introducing 20th century Western art in Bombay. Husain became a co-founder, along with Francis Newton Souza, of the Progressive Artists Group in 1948. In 1952, his first solo exhibition was held at Zurich. He was awarded Padma Shri by the Government of India in 1955. In 1967, he made his first film, 'Through the Eyes of a Painter'. In 1971, he was a special invitee along with Pablo Picasso at the Sao Paulo Biennial (Brazil). In 1973, he was awarded Padma Bhushan. He was nominated as a Rajya Sabha member in 1986. Later, in 1991, he was awarded Padma Vibhushan by the Indian Government.
Contribution to Indian Art

His narrative paintings, executed in a modified Cubist style, can be caustic and funny as well as serious and sombre. His themes which were usually treated in series included diverse topics such as Mohandas K. Gandhi, Mother Teresa, the Ramayana, the Mahabharata, the British raj, and motifs of Indian urban and rural life.

He has also produced & directed several movies, including Gaja Gamini and Meenaxi: A Tale of Three Cities.

Husain was charged with "hurting sentiments of people" because of his nude portraits of Hindu gods and goddesses in 2006. Since then he lived in self-imposed exile from until his death. At Christie's auction in 2008, Husain became the best-paid painter in India, with his highest-selling piece fetching $1.6 million. He was conferred Qatari nationality in 2010. For the last years of his life Husain lived in Dubai and London. M. F. Husain died in 2011.
Topics: Indian Paintings • Progressive Art Group • Young Turks
Latest E-Books