Mangrove Red Snapper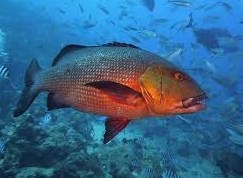 Mangrove red snapper (Lutjanus argentimaculatus) is a species of fish native to the Indian Ocean and western Pacific Ocean. It was also sighted in Mediterranean Sea, having reached the Red Sea through the Suez Canal. This fast-breeding fish has high commercial value. Its demand stems from its easy adaptability, aesthetics, its acceptance to artificial food, meat quality and consumer preference.
In May, 2021, the Central Institute of Brackishwater Aquaculture (CIBA), New Delhi has successfully developed broodstock and seed production technology for this fish after five years of persistence. It recently became the first in India to produce hatchery of red snapper seed.
Topics: Mangrove Red Snapper
Latest E-Books