ISRO launches all-weather Earth Observation Satellite and nine customer satellites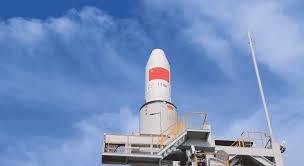 The Indian Space Research Organization launched an all weather Earth Observation Satellite, EOS-01 using PSLV-C49 rocket along with nine customer satellites.
About the Launch
The Earth Observation Satellite launched is a Radar Imaging Satellite. It is the third of the three-spacecraft constellation. The other two are RISAT-2B and RISAT-2BR1. These two satellites were launched in 2019. These three satellites in the constellation are to provide all weather round the clock service with high-resolution images.
Benefits of the launch
As the satellite uses radar imaging, it is unaffected by clouds, fog or lack of sunlight. All the three satellites, EOS-01 and RISAT-2B, RISAT-2BR1 use X-band radars to monitor urban landscape, forest land and imaging agricultural land.
New Nomenclature of ISRO
ISRO has named this satellite as EOS-1. With this, ISRO is moving towards a new naming system for its earth observation satellites. Till now ISRO named its satellites thematically, that is, based on the purpose they are being launched. For instance, the CARTOSAT series were launched to provide data on land topography. On the other hand, the OCEANSAT was launched for observations over sea.
What is new about the PSLV used in the launch?
The PSLV that was used for the launch is a new variant. This version of PSLV rocket does not become a waste after putting the satellite in the orbit. Instead it can be used as an orbital platform for the other onboard instruments. In other words, the fourth stage of the rocket can be used as another satellite for a lifespan of six months.
Background
ISRO sent communication satellite GSAT-30 in January 2020. It was sent from French Guiana using an Ariane rocket.
After this, the launches of ISRO were derailed due to the COVID-19 pandemic. This included the Aditya L1 mission. Aditya is the first solar exploratory mission by India to the sun. the unmanned Gaganyaan was also postponed. It was a precursor planned to India's first Human space Flight.
What is SSLV?
SSLV is under construction. It is Small Satellite Launch Vehicle. The specialty of the rocket is that it can be assembled in two days. It is capable of dropping the payloads at differential heights. The international demand for the rocket is more according to the ISRO chairman Dr K Sivan.
Month: Current Affairs - November, 2020
Category: Science & Technology Current Affairs
Topics: Aditya • Ariane 5 • Gaganyaan • ISRO
Latest E-Books