Gaganyaan Mission: L&T delivers Booster Segment, the first launch hardware to ISRO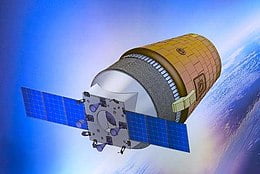 On November 17, 2020, Larsen and Toubro delivered a Booster Segment, the first hardware for the Gaganyaan Mission to ISRO. The company has delivered the module ahead of schedule.
What is a Booster segment in a rocket?
It is an engine or can also be a booster rocket. It is either the first stage of a multi stage rocket or a shorter burning rocket used to augment the take off thrust of the space vehicle. In simple words, the booster segments solve two purposes
In Low Earth Orbit rockets, booster segments are used to launch a space craft
Booster Segments act as thrust providers when the mission is beyond low earth orbit.
Here the Gaganyaan Mission aims to send astronauts to Low Earth Orbit (400 km) and so here the booster segment is used to launch a space craft.
About the Booster Segment of L&T
L&T has provided two S200 solid rocket boosters. S200 is a high thrust solid propellant strap on booster. They will provide huge thrust that is required for the lift off. The Booster Segment was produced at L&T Powai Aerospace Manufacturing Unit located in Mumbai. L&T plays a vital role in the Gaganyaan Mission and has been a partner of ISRO for over fifty years. L&T was a part of Mangalyaan and Chandrayaan missions as well. The booster segment is 8.5 metres in length, has a diameter of 3.2 metres and weighs 5.5 tonnes.
About Gaganyaan Mission
Gaganyaan is an Indian Human Spaceflight Programme that is to carry three astronauts to space. It is the first crewed mission of India. ISRO's GSLV Mk III launch vehicle is to be used. It is a three stage heavy lift Geosynchronous Satellite Launch Vehicle. GSLV Mk III is designed to carry 4 tonnes of satellites into the Geosynchronous Transfer Orbit or 10 tonnes of satellite to the Low Earth Orbit.
The mission will launch a capsule that will orbit the earth at 400 km altitude up to seven days. When the orbit is at a height of less than 1000 km, it is called Low Earth Orbit.
Month: Current Affairs - November, 2020
Category: Science & Technology Current Affairs
Topics: Booster Segment • Chandrayaan • Gaganyaan • Gaganyaan Mission • Gaganyaan programme • GSLV Mk III rocket • Indian Space Research Organisation (ISRO) • ISRO • Larsen and Toubro • Low Earth orbit • Mangalyaan
Latest E-Books