Finance minister: MDR charges not applicable for RuPay and UPI from 2020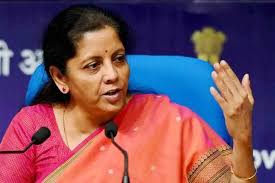 On December 28, 2019, Finance Minister Nirmala Sitaraman announced that Merchant Discount Rate (MDR) will not be applicable on bank transactions made through RuPay and UPI platforms.
Highlights
The Finance Ministry has directed the banks to start campaigns to popularize UPI and RuPay debit cards. Also, the banking companies with an annual turnover more than 50 crores of rupees have been mandated to offer low cost digital payment options. They are directed to provide their payment facility through UPI or RuPay debit cards.
The low-cost digital payment modes according to GoI includes BHIM, UPI, Debit cards, Aadhar Pay, NEFT, and RTGS.
What are MDR?
Merchant Discount Rate are charges imposed by banks on merchants for accepting payments from customers through credit and debit cards. It is usually shared as a percentage of transaction amount.
MDR is applicable to online transactions and QR-based transactions as well.
According the Government Order in January 2018, 0.4% of bill value was charged on small merchants and 0.9% of the bill value was charged on lager merchants. Now these charges are being removed.
How is the move beneficial?
The move will encourage use of digital transactions. It will eventually reduce the physical form of currency increasing the net amount held by the banks. The banks shall then absorb the costs from such savings that accrues to them.
Legal Provisions
The MDR charges are accommodated by Income Tax Act and Payments and Settlement Systems Act, 2007.
Topics: BHIM • Debit cards • Digital currency • digital economy • Merchant Discount Rate • NEFT • QR code • Union Finance Minister
Latest E-Books