Fifth Takht of Sikhs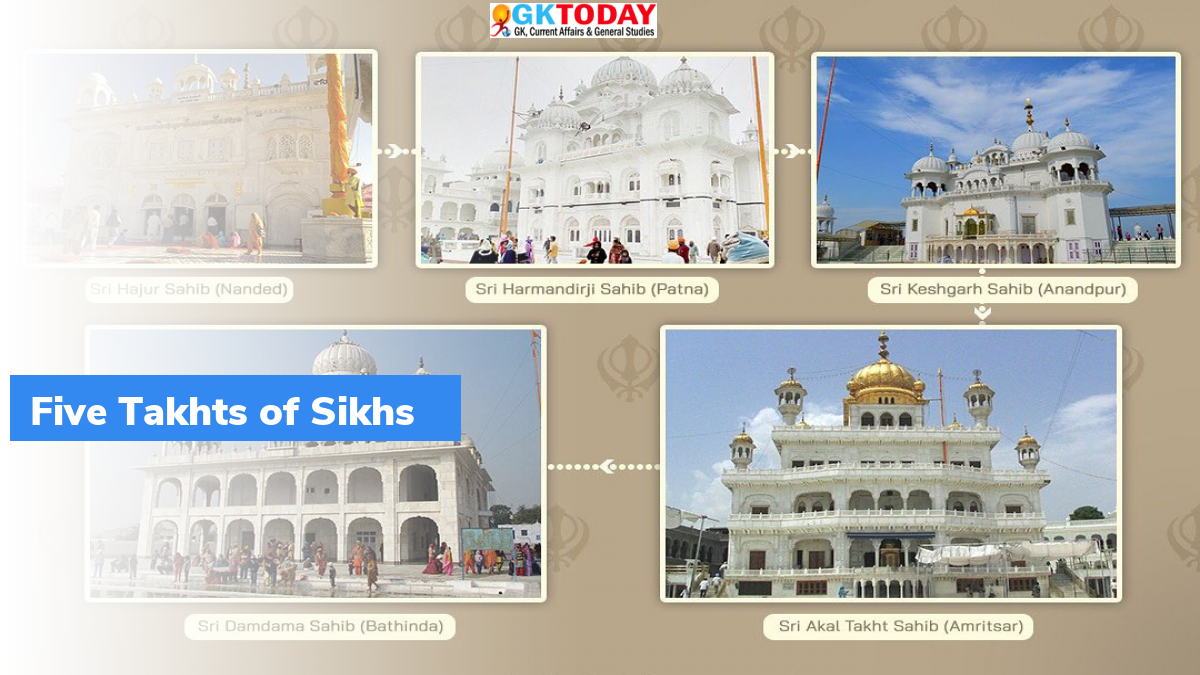 Delhi Assembly passed an amendment bill to "Delhi Sikh Gurdwara Act, 1971" on January 3, 2022.
Key Points
The bill recognises the "Takht Damdama Sahib" as fifth Takht of Sikhs.
It also adds one more ex officio member in Delhi Sikh Gurdwara Management Committee (DSGMC) house. Earlier, there were four ex officio members- chiefs (jathedars) of other four Sikh Takhts.
Bill will also make the chief of Takht Damdama Sahib, an ex officio member in DSGMC house, after approval.
What is a Sikh Takht?
Takht (Throne) is a seat of temporal authority for Sikhs. Presently, there are five Sikh Takhts. Out of them, three are in Punjab, one in Maharashtra and one in Bihar. Five Takhts are understated:
1. Akal Takht
Akal Takht is located in Amritsar. It is oldest Takhts, and considered supreme among all. Guru Hargobind had set up this Takht in 1606, who succeeded Guru Arjan Dev, as the sixth Guru. His succession is considered a turning point in Sikh history. The Akal Takht has been built in front of causeway that led to sanctorum of the Golden Temple. It symbolises the coming together of temporal authority & political sovereignty of Sikh community (Miri) with the spiritual authority (Piri).
2.   Takht Keshgarh Sahib
Keshgarh Sahib Takht is Located in Anandpur Sahib in Punjab. Guru Gobind Singh, the tenth guru, raised Khalsa here in 1699.
3.   Takht Patna Sahib
In 1666, Guru Gobind Singh was born here.
4.   Takht Hazur Sahib
It is located in Nanded. Guru Gobind Singh spent time and was cremated here in 1708.
5.   Takht Damdama Sahib
It is located in Talwandi Sabo of Bathinda. Guru Gobind Singh spent time here.
Background
In 1999, Union Home Ministry had recognised the Takht Damdama Sahib as fifth Sikh Takht. This recognition included the Takht in Sikh Gurdwaras Act, 1925. Prior to that, SGPC sub-committee had also declared it the fifth Takht of Sikhs in November 1966.
What is the purpose of Sikh Takhts?
The Sikh Takhts issue hukumnamas from time to time on issues related with Sikh community. Since, Akal Takht is supreme among them, any order concerning the entire community is issued from Akal Takht.
Month: Current Affairs - January, 2022
Category: Art & Culture Current Affairs
Topics: Akal Takht • Fifth Takht of Sikhs • Guru Gobind Singh • Takht Damdama Sahib • Takht Hazur Sahib • Takht Keshgarh Sahib • Takht Patna Sahib
Latest E-Books