February 10: National Deworming Day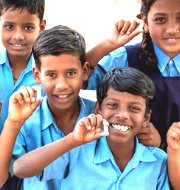 The National Deworming Day is observed every year on February 10 with main objective to combat parasitic worm infections among preschool and school-age children across India.
This year it is third edition of the observance of this day after it was launched in 2015 by the Union Ministry of Health and Family Welfare (MoHFW).
The goal of the day is to deworm all preschool and school-age children between the ages of 1-19 years in order to improve their overall health, cognitive development, nutritional status and quality of life.
On this day, Albendazole tablets are given to all targeted children. This year for the first time, deworming tablets were given to the private schools children also.
About Soil-Transmitted Helminths (STH)
Soil-Transmitted Helminths (STH) also known as parasitic worm is a type of helminth infection (helminthiasis) caused by different species of roundworms.
They are among the most common worms infections worldwide caused specifically by those worms which are transmitted through soil contaminated with faecal matter
These worms interfere with nutrient uptake in small children causing parasitic infestation. They live in human intestines and consume nutrients meant for the human body.
The parasitic infestation or diseases lead to severe complications among the children resulting in anemia, malnutrition and improper mental and physical development.
According to WHO, India has the highest burden of STH in the world, with estimated 220 million children (aged 1-14) to be at risk of worm infections.
Month: Current Affairs - February, 2017
Category: Important Days & Events Current Affairs
Topics: Days and Events • National • national deworming day • Public health • soil transmitted Helminths
Latest E-Books