DRDO Single Crystal Blade Technology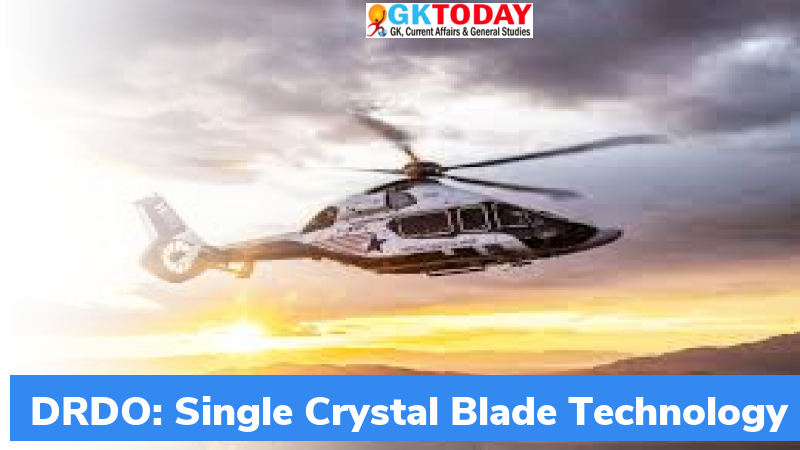 The Defence Research and Development Organisation recently developed the Single Crystal Blade Technology. The organisation has delivered sixty of such blades to the Hindustan Aeronautics Limited. A very few countries in the world possess this technology. They are UK, USA, Russia and France.
What is Single Crystal Blade?
The helicopters need powerful and compact aero engines to operate in extreme conditions. In order to achieve this, Single Crystal Blades are essential.
The Single Crystal blades are made of nickel based super alloys. These alloys are capable of withstanding low temperatures.
The technology is to be used in helicopters.
What is Single Crystal Blade Technology?
Normally the "Grain Boundary" technology is used in making blades. Here the metal forms grains while solidifying.
Usually, metal alloys are used in making blades. Different metals in the alloy produce different grains while solidifying thereby creating grain boundaries. Basically, a grain boundary is an interface between two grains or crystals. These boundaries lead to creep in the blades.
The problem of creep is overcome in Single Crystal Blade technology by designing alloys that can be used in single crystal form. This means that no boundaries will be formed here.
The technology uses a vacuum investment casting process to realise the blades. This includes ceramic moulding, wax patterning, heat treatment.
It is essential to formulate special ceramic composition for the technology. This involves making strong ceramic moulds that withstands metallostatic pressure at 1500 degrees Celsius.
What is a Creep?
Creep is the tendency of blade material to deform at low temperatures.
Benefits of Single Crystal Blade Technology
The blades created under this technology has longer life and are more corrosion resistant.
Month: Current Affairs - April, 2021
Category: Defence Current Affairs
Topics: Crystals • Defence Research and Development Organization (DRDO) • DRDO • Hal • Helicopter
Latest E-Books