Cyclone Idai hits Zimababwe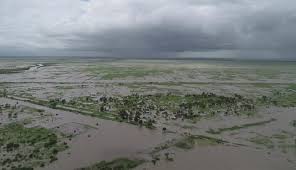 31 people have been confirmed dead in a massive cyclone which has come to hit parts of eastern Zimbabwe. Idai, a huge cyclone has also caused havoc in the neighbouring states of Mozambique and Malawi. It has been reported that over 1.5 million people have been hit by the Cyclone in three different countries. Heavy flooding has washed away roads, schools, businesses, hospitals, police stations, hospitals etc. and thousands of people are left stranded due to the disaster.
Ministry of Information of Zimbabwe has reported that the deaths have been mainly caused in the Chimanimani East. The army has led the rescue efforts particularly for airlifting students from a school and others who have been trapped in the storm. Another group of people who had fled from their homes are now marooned on a mountain top in wait for rescue teams to approach them. Strong winds are not letting any helicopters flights possible.
The International Federation of Red Cross and Red Crescent Societies (IFRC) has said that as many as 126 people have been killed in all the three African states.
The central port city of Beira in Mozambique has been hardest hit. IFRC aid workers are trying to reach the city of Beira by road which is fourth largest in Mozambique and has a population of about 500,000.
IFRC's Head of Emergency Operations, Jamie LeSueur who is leading the rescue team has stated that "the extent of the destruction remains unclear, but first-hand information provided by our local colleagues indicate that many parts of Beira have been seriously injured". Cyclones are very common during this time of the year but only a few have been actually able to make landfall and Idai has been very destructive. Idai hit Mozambique with the wind speed of about 160 kilometres per hour. The wind speed has caused the wind speed to reach a height of nine metres. It is predicted that the torrential rains and winds will continue into next week. Amongst all the warnings which have been issued, the Presidents of both Mozambique Filipe Nyusi and President of Zimbabwe Emmerson Mnangagwa, have cut their trips abroad short, to deal with the effects of the cyclone. Both the leaders had gone abroad as the cyclones had hit their country drawing criticism from all corners.
It is learnt that both the leaders will soon visit the affected areas after they return from abroad. Cyclone Idai is expected to continue to cause damage.
Category: Uncategorized
Topics: Africa • Beira, Mozambique • Chimanimani • Continents • Cyclone Dineo • Cyclone Idai • Geography of Africa • In Zimbabwe • Mozambique
Latest E-Books