Current Affairs – December 30, 2020 [Today's News Headlines]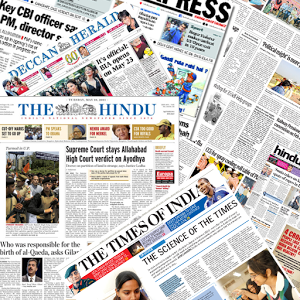 Here are Today's News Headlines for December 30, 2020.
India
PM inaugurates Bhaupur-Khurja section of Eastern Dedicated Freight Corridor
On December 29, 2020, the PM Modi inaugurated 351-km of Bhaupur-Khurja section and an operation control centre of Eastern Dedicated Freight Corridor.
Meteorological Centre in Ladakh
The Indian Meteorological Department has established a Meteorological Centre in the Union Territory of Ladakh. It is the highest meteorological centre in the country located at a height of 3,500 metres.
Dr Harsh Vardhan nominated as member of GAVI board
The Union Health Minister of India Shri Harsh Vardhan was nominated as a member of GAVI Board. The nomination was made by GAVI. The minister is to represent India between 2021 and 2023.
Digital Ocean launched
The Union Minister of Science and Technology launched the "Digital Ocean" for INCOIS (Indian National Centre for Oceanic Information Services) as an one-stop solution for all data related needs.
India-France SKYROS exercise
India and France are to conduct SKYROS exercise in Jodhpur in January 2021. They are different from the routine Garuda exercises conducted between the countries.
Manusakh Vasava quits BJP
The BJP MP from Bharuch Lok Sabha Constituency has quit the BJP party over the issue that 121 villages of Narmada district being declared as Eco-Sensitive Zone by the Ministry of Environment, Forest and Climate change.
Economy and corporate
UNESCAP: Indian Economy can be the most resilient economy
The report, "Foreign Direct Investment Trends and Outlook in Asia and the Pacific" recently said that India could be the most resilient economy in the region of South and South West Asia. The report was compiled by UNESCAP.
India's first Social Impact Bond
The Pimpri Chinchwad Municipal Corporation of Maharashtra is to create the first Social Impact Bond. In order to achieve this, a Memorandum of Understanding was signed with the United Nations Development Programme.
World
Storm Bella
Tens of thousands were left without electricity as storm Bella caused torrential rains in France.
Pierre Cardin dies at 98
The French designer Pierre Cardin died at the age of 98 on December 29, 2020.
Fifty Journalists killed worldwide
The "Reporters Without Borders" report on December 29, 2020, stated that more than fifty journalists were killed in countries that are not at war.
Sports
2nd Test: India beat Australia by 8 wickets
India beat Australia by 8 wickets in the second test match at Melbourne Cricket Ground.
Month: Current Affairs - December, 2020
Category: Today's News Headlines
Topics: Current Affairs Headlines • Current Affairs: News Headlines • Headlines • Latest News Headlines • News Headlines • Top Headlines
Latest E-Books