China-Iran strategic agreement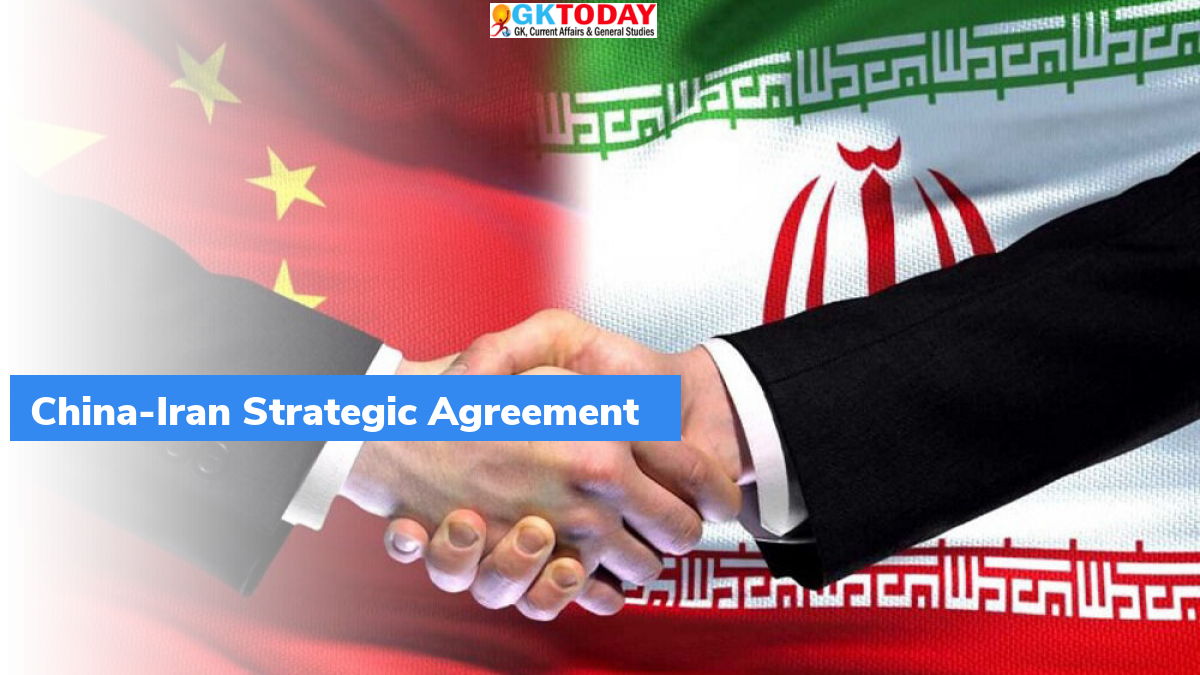 China is all set to implement a strategic agreement with Iran, in a bid to strengthen economic and political cooperation between both the countries.
Highlights
In a meeting, China also reaffirmed its opposition to USA's sanctions on Iran.
Announcement for implementing "China-Iran Strategic agreement" was made at a meeting in east China's Wuxi on January 14, 2022.
China-Iran Strategic agreement
During the meeting, foreign ministers agreed to step up cooperation in energy, production capacity, infrastructure, science & technology, and medical & health care.
Bilateral relations will also be expanded to sectors like agriculture, fisheries, third party market, cybersecurity, people-to-people as well as cultural exchanges in film, education, and personnel training.
They have also agreed to make "adequate arrangements" for setting agreement in motion.
$400 billion agreement
‌‌China and Iran signed a $400 billion agreement on March 27, 2021 by then Iranian Foreign Minister Javad Zarif and Wang. The agreement includes Economic & Cultural interaction between both the countries. It also opens up ways for Iran's participation in Belt and Road initiative which is an infrastructure project running from East Asia to Europe. The project was launched with the aim of expanding China's economic and political influence.
Background
The agreement was signed in 2016 when Chinese leader Xi Jinping visited Iran, after a nuclear deal was signed between Iran and world powers. However, when US withdrew from the deal in May 2019 and put sanctions on Iran, Iran-China agreement was also put on hold.
China–Iran relations
Official relations between China and Iran were started in 1937. Both the civilizations have had a history of cultural, economic and political exchanges along the Silk Road since 200 BC. Presently, China and Iran have developed a friendly strategic and economic partnership. Both the countries singed a 25-year cooperation agreement in March 2021, for strengthening the relations. The relation also includes "political, strategic and economic" components.
Economic relations
China considers Iran as permanent partner for its exports and a source of its growing energy demand. Chinese state-run company, Zhuhai Zhenrong Corporation, signed a 25-year contract for importing 110 million metric tons of Liquefied Natural Gas (LNG) from Iran, in March 2004. China has been crude oil sink of Iran, since the JCPOA was signed. 64% of an export total of $16.9 billion with China was crude oil, in 2017.
Month: Current Affairs - January, 2022
Category: International Current Affairs
Topics: China-Iran • China-Iran strategic agreement • JCPOA • US sanctions
Latest E-Books