A.P.J. Abdul Kalam, 'People's President' and 'Missile Man' passes away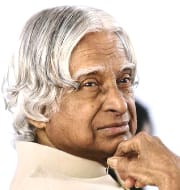 Former President of India A.P.J. Abdul Kalam passed away due to massive cardiac arrest in Shillong, Meghalaya. He was 83.
He was widely acclaimed as the 'People's President' and the 'Missile man' of India. He was was one of India's most eminent scientists.
About A.P.J. Abdul Kalam
Avul Pakir Jainulabdeen (A.P.J) Abdul Kalam was born on 15 October 1931 in Rameswaram, Ramanathapuram District of Tamil Nadu.
DRDO career: In 1960, he had joined Defence Research and Development Organisation (DRDO) as a scientist and started his career by designing a small helicopter for the Indian Army.
ISRO career: In 1969, he had joined India Space Research Organisation (ISRO) as the project director for India's first indigenous satellite launch vehicle programme.
Under his leadership and vision, India entered into the elite space club after Rohini satellite was place into the orbit in 1980.
He was a pioneer and instrumental in development of the Polar Satellite Launch Vehicle (PSLV), India's space workhorse.
Missile Man: In 1980, he was appointed Chairman of Integrated Guided Missile Development Program (IGMDP) and was brain behind developing Agni and Prithvi missiles.
Thus he came to be known as the Missile Man of India for his work on the development of ballistic missile
Chief Scientific Adviser (CSA): He was appointed CSA to Prime Minister and Secretary of DRDO in 1992 and remained till 1998.
Pokhran II Nuclear Test: He was Chief Project Coordinator of Pokhran II Nuclear Test i.e. Operation Shakti which was conducted on 11 May 1998.
President: He was the 11th President of India and was in office from 2002 to 2007. He was India's most popular President and famously known as People's President.
Awards and Honours: Bharat Ratna (1997), Padma Vibhushan (1990), Padma Bhushan (1981).
He has unique honour of receiving honorary doctorates from 30 universities and institutions. United Nations had recognised his 79th birthday as World Student Day.
Switzerland has declared 26 May as 'Science Day' to commemorate visit of A P J Abdul Kalam to the country in 2005.
His famous books: India 2020: A Vision for the New Millennium (1998), Wings of Fire: An Autobiography by A P J Abdul Kalam (1999), Ignited Minds: Unleashing the Power Within India (2002), The Luminous Sparks (2004), Mission India (2005), Reignited: Scientific Pathways to a Brighter Future (2015) etc.
Month: Current Affairs - July, 2015
Topics: A. P. J. Abdul Kalam • Current Affairs 2016 • DRDO • ISRO • Obituary • President • Scientist
Latest E-Books