US to ink deal with Taliban in Doha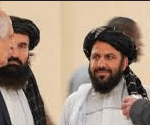 The United States is scheduled to sign a deal with the Taliban group on February 29, in Doha, for reduction in violence across Afghanistan.
This was announced by the US Secretary of State Mike Pompeo.  A week-long 'reduction in violence' deal between the Taliban, the US and Afghan security forces is to commence shortly. After this agreement, Intra-Afghan negotiations are to be carried out.
Topics: Afghanistan , Negotiations between the Taliban and the United States , United States
Advertisement