Trends in Foodgrain Production in India
Food Grains include rice, wheat, maize, coarse cereals and pulses. As per 3rd Advance Estimates, the estimated production of major food crops during 2016-17 is follows:
Total Food grains  –  273.38 million tonnes (record) of which:

Rice – 109.15  million tonnes (record)
Wheat – 97.44 million tonnes (record)
Coarse Cereals –  44.39 million tonnes (record)
Maize – 26.14 million tonnes (record)
Pulses  –  22.40 million tonnes (record) of which:

Gram – 9.08 million tonnes
Tur –  4.60 million tonnes (record)
Urad –  2.93 million tonnes (record)
As per final figures, in 2016-17 crop year (July-June), the country had achieved a record food grain production of 275.68 million tonnes, bouncing back from two straight drought years. In 2014-15, India's food grain production was around 257 million tonnes.  In 2018, the foodgrain production is likely to be near 275 million tonnes.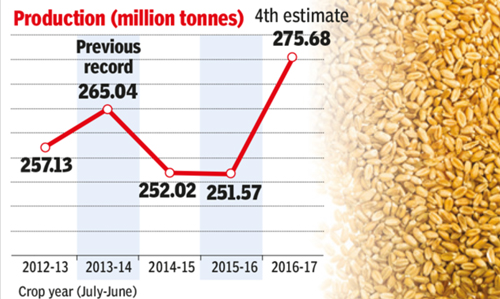 Historical Trend in Food grain Production
In 1947, India's population was 330 million and in those days, feeding people was biggest challenge. In the initial decades, India relied on supplies from the United States under its Public Law 480 (PL-480). 
The reason as to why India relied on United States only and why not other countries – was that India did not have enough foreign currency to buy food grains from global markets. The PL-480 programme allowed India to buy in Rupee payments. At that time, India could by maximum 8MT of food grains from international markets (with available foreign currency) while under PL-480, it imported 10MT. Those were the days when India's food grain production hovered around 50 million tonnes, unable to feed the population.
A major problem arose in 1960s when United States suspended the supply of wheat to India due to some political differences; despite that India was facing back to back droughts in those years. The Indian leadership however, immediately learnt the lesson that India could even lose its freedom if self sufficiency in food production is not achieved.
In 1966, India imported 18000 tonnes of high yielding varieties (HYV) of wheat from Mexico and ushered into the era of green revolution.
From 330 million in 1947 to 1.25 billion today; India's population has increased by almost 3.8 times. In this period, India's food grain production increased from 50MT (1951) to 257MT in current year.
During this period, production of wheat gone up by 15 times, rice by five times, maize by 14 times, milk by 8 times and so on.
The result is in front of all of us. Today, India is not only self sufficient but also a net exporter of food grains and largest exporter of rice in the world. The key stakeholders of this turn around were policy makers like C. Subramanian, scientists like M.S. Swaminathan. However credit should go to the Indian farmer, who took the risk of adopting new technologies.
Largest Food-grain Producing States in India
India's largest food grain producing state is Uttar Pradesh; which produces around 19% of total food grains in the country. Three Largest Producing States of Important Crops during 2015-16 are as follows:
Three Largest Foodgrains Producing States
Rice
West Bengal
15.75
Uttar Pradesh
12.51
Punjab
11.82
All India
104.32
Wheat
Uttar Pradesh
26.87
Madhya Pradesh
17.69
Punjab
16.08
All  India
93.50
Maize
Karnataka
3.27
Madhya Pradesh
2.58
Bihar
2.40
All India
21.81
Total Coarse Cereals
Rajasthan
5.91
Karnataka
5.70
Madhya Pradesh
3.83
All India
37.94
Total Pulses
Madhya Pradesh
5.12
Rajasthan
 1.95
Maharashtra
 1.41
All India
16.47
Total Foodgrains
Uttar Pradesh
44.01
Madhya Pradesh
30.21
Punjab
28.41
All India
252.22
Data: Million Tonnes; 4th Advanced Estimates; Source: Agricultural Statistics at a glance 2016
Topics: PL-480