Marketing Aptitude: Sale Promotion
Sales promotion refers to the set of marketing activities undertaken to boost sales of the product or service. It is implemented to attract new customers, to hold existing customers, to offset competition and to take advantage of opportunities that are revealed by market research. It is made up of activities, both outside and inside activities, to increase company sales. Outside sales promotion activities include advertising, publicity, public relations activities, special sales events, etc. Inside sales promotion activities includes window displays, product and promotional material display and promotional programs such as premium awards and contests. Some of the devices used in sales promotion include freebies, coupons, samples, premiums, Point-of-Purchase (POP) displays, discounts, demonstrations, contests, rebates, sweepstakes, product samples, exhibitions or trade shows, giveaways, etc.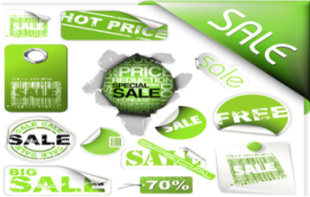 The term "Sales Promotion" has been defined by following eminent authors: –
American Marketing Association: – "Sales promotion refers to those marketing activities, other than personal selling, advertising and publicity that stimulate consumer purchasing and dealer effectiveness, such as displays, shows and exhibitions, demonstrations and various non-recurrent selling efforts not in the ordinary routine."
H. R. Delens: – "Sales Promotion means any steps that are taken for the purpose of obtaining or increasing sales. Often this term refers specially to selling efforts that are designed to supplement personal selling and advertising and by coordination helps them to become more effective."
Philip Kotler: -"Sales Promotion encompasses all the tools in the marketing mix whose major role is persuasive communication."
George H. Hopkins: – Sales Promotion is an organized effort applied to the selling job to secure the greatest effectiveness for advertising and dealer's help."
J. Stanton: -sales promotion as all those activities other than advertising, personal selling, public relations and publicity that are intended to stimulate customer demand and improve the marketing performance of sellers.
Mason and Bath: – "Sales Promotion consists of those activities that are designed to bring a company's goods or services to the favourable attention of consumers."
K Johnson: -"Sales Promotion consists of all those activities whose purpose is to supplement to co-ordinate and to make more effective the efforts of the sales force of the advertising department, and of the distributors and to increase the sales and otherwise stimulate consumers to take greater initiative in buying."
William J. Stanton: – "Sales Promotion is an exercise in information, persuasion and influence."
Roger A. Strong: "Sales promotion includes all forms of sponsored communication apart from activities associated with personal selling. It, thus includes trade shows and exhibits, combining, sampling, premiums, trade, allowances, sales and dealer incentives, set of packs, consumer education and demonstration activities, rebates, bonus, packs, point of purchase material and direct mail."
Tull & Kahel: – "Sales promotion is a short term prize, gift or product incentives designed to include purchase when offered to distributors, industrial users, or consumer."
Harold Whitehead: – "Sales Promotion includes the dissemination to wholesalers, retailers and consumers – actual and potential and not least to firm's own salesmen."
Objectives of Sales Promotion
Some of the objectives of sales promotion are as follows:
To increase immediate sales.
To motivate existing consumers to buy more.
To increase the sales efforts of dealers and sales' personnel.
To create favorable attitude towards the product
To create brand image.
To capture new market area.
To increase market share.
Ti increase customer satisfaction.
To inform public about the new product and its specialties, attraction and advantages.
To encourage consumers to purchase a new product by providing free samples of it.
To attract new customers through issue of free samples, premiums, contests, etc.
To improve brand image and goodwill of firm.
To educate customers, dealers, salesmen about method using the product.
To check seasonal decline in the volume of sales.
To increase sales in off-season period.
To meet competition from others effectively.
Importance / Advantages of Sales Promotion
In the modern marketing era, due to excessive specialization, mass production and cut-throat competition, the importance of sales promotion has increased tremendously. The importance of sales promotion may be narrated as follows:
Importance for Consumers
The sales promotion is important for consumers because of the following reasons:-
Availability of product at reduced prize: – The consumer gets the product or service at a cheaper rate by the sales promotion methods like money-refund-offer, off-season discounts, price off, etc.
Financial benefit: – Sales promotion gives financial benefit to the customers by giving opportunities to win prizes in sales-contest, lucky draws, etc.
Increases product knowledge: – The consumer gets all information about the quality, features and uses of different products or services by sales promotion methods like demonstration, free trails, add to knowledge of consumer regarding availability of new products, methods of using new products, etc.
Increase the standard of living: – Sales promotion helps in increasing the standard of living of people by exchanging their old items, so that consumers can use latest items available in the market. Use of such goods improves their image in society.
Provides extra value: – Sales promotion provides extra value to the consumers. For example, they get free gifts, extra quantity, free after-sales services, free samples, etc.
Importance for Manufactures
The sales promotion is important for manufactures because of the following reasons:-
Increases sales: – The sales promotion schemes motivate the consumers and dealers to buy in large quantity that lead to increase sales in a competitive market and thus, increases profit of the manufacturer / producer.
Helpful in introducing new products: – The sales promotion schemes like free samples help the business units to place the new products in the market.
Helpful in disposing of existing products: – When a new product is introduced or there is a change of fashion or taste of consumers, existing stocks can be quickly disposed off by the sales promotion methods.
Helpful in facing competition: – The sales promotion schemes helpful in facing competition, maintaining and increasing the market share.
Promote goodwill: – The repeated use of sales promotion tools promotes brand-image and brand-popularity. It progressively promotes good will of manufacturer.
Cooperation from middlemen: -The various promotional incentives offered to the dealers helps to achieve co-operations from them to sell the product on priority basis and to maintain maximum stock with them.
Promote demand even during off-season: – The sales promotion schemes helpful in maintaining the demand for the product during off-season. For example, the offer of off-season discounts, price cut etc. on seasonal products like fridge, coolers, fans, etc. are able to maintain continuous sales of such items.
Importance for Middlemen
The sales promotion is important for middlemen because of the following reasons:-
Help to attract customers: – The sales promotion schemes help the middlemen (wholesalers, retailers, etc) to attract more customers and establish better relations with them.
Increase in sales and profits: – The sales promotion schemes helps in increasing the sales of middlemen, which in turn increases profit.
Reduces selling efforts: – Due to attractive sales promotion schemes, middlemen find it easier to sell the goods and services, as consumers already know the quality and features of the product.
Opportunity to win prizes: – The sales promotion schemes targeted to middlemen helps them to win free tours, gifts, etc.
Other benefits: – Middlemen get free ad-material, extra-allowances for displaying the product, etc.
Latest E-Books