Marketing Aptitude: Methods / Tools / Types of Sales promotion
To promote the sales of the product, the sales promotion methods are classified into three ways: Consumer-Oriented Sales Promotion, Middlemen / Dealers- Oriented Sales Promotion and Salesmen -Oriented Sales Promotion.
A) Consumer-Oriented Sales Promotion
The following are the various sales promotion schemes used at the consumer level:-
Free Distribution of Samples: -When a product is new or is not a market leader, the successful marketer uses sampling strategy by giving a sample product to the consumer, either free or for a small fee. The samples may be distributed door to door, or may be offered in a retail store, or with the purchase of any particular product. This method is very useful in changing the customer's future purchase decisions, as they verified the product's benefits or features during the trial.
Discount Coupons: -These are legal certificates offered by some companies to consumers while purchasing the product. These coupons enable a consumer to get a certain discount or reduction in price on future purchase of a particular product. Such coupons encourage these consumers to go and purchase the product at lower price.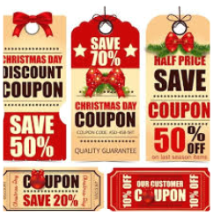 Premiums or Bonus Offers: -It is a promotional item that may be offered to consumers as a prize, as a free gift or at a comparatively lower prize to buyers. Premium may be kept inside the pack or in the form of reusable container. For example, receiving a prize in a cereal box or a free garden tool for visiting the grand opening of a hardware store.
Money Back Guarantee: -Under this method, manufacturers guarantee that if their product does not meet certain standards, the consumers can return the product and get their money back within a stated period. This strategy develops faith and confidence among the consumers about the products, they purchase.
Price off or Temporary Price Reduction: -Here, the producers or dealers announce heavy reduction in the prices of products, generally on some specific occasions or festivals such as Diwali, Holi, New Year, Id, Gandhi Jayanti, Independence Day, etc. For example,-20% to 30% discount on all the products of Gandhi Ashram on Gandhi Jayanti, etc. This is done to attract consumers of other brands to his product.
Contests / Sweepstakes: -It refers to promotional events which provide an opportunity to customers to win cash prices, free air trips or goods, while purchasing a particular product of a company. It is an indirect method of introducing a new product and attracting new customers to the company's product. In such contests, consumers are asked to reply very simple questions in a form available on purchase of the company's product. According to American Marketing Association, "the contests which are decided on the basis of lucky draw and do not require any participants to perform any task /apply any skill are called sweepstakes."
Cheap Bargain (or Self liquidating Premium): – Under this method, the consumer is offered another product at a cheaper rate along with the purchase of company's product. For example, a plastic bucket of 20 litre at Rs.10 only with the purchase of 5 Kg pack of 'Surf'. This scheme provides an opportunity to the consumers to get such product at cheap rate and it increases the sales of the main product.
Demonstration of product: – Some companies demonstrate their product or service before consumers so that they may know about the product and decide to purchase it. Such demonstrations may be arranged at retail stores, in fairs and exhibitions, festivals or even door to door basis.
Decoration and display at the Shop: -In this promotional method, goods are decorated and displayed at the shop in the manner that it may withdraw the attention of general public passing there from. It encourages them to come to the shop, enquire about these goods and buy them.
Fairs and Exhibitions: Fairs and exhibitions may be organized at local, regional, national or international level to introduce new products, demonstrate the products and to explain special features and usefulness of the products. Goods are displayed and demonstrated and their sale is also conducted at a reasonable discount. The 'International Trade Fair' in New Delhi at Pragati Maidan, which is held from 14th to 27th November every year, is a well known example of Fairs and Exhibitions as a tool of sales promotion.
After Sale Service: -It refers to providing free after sales services to the buyer for a specific period of time. In this method, product is maintained free of cost in the guaranteed period. It includes, free repairs, free replacement of certain parts, etc. is an important tool of sale promotion. It develops faith among the consumers about the quality of the product.
b) Middlemen/Dealers-Oriented Sales Promotion
The purpose of Dealers-Oriented Sales Promotion (or trade sales promotion) is to
Develop in-store merchandising support, as strong support at the retail store level is the key to closing the loop between the customer and the sale.
Control inventory by increasing or minimizing levels, thus helping to eliminate seasonal peaks and valleys.
Expand or improve distribution by opening up new sales areas.
Generate interest about the product among those responsible for selling it.
Some of the most common forms of trade promotions are as follows: –
Buying Allowance Discount: -A buying allowance is a bonus or discount paid by a manufacturer to a dealer when a certain amount of product is purchased during a specific time period. Such allowance or discount may be given at a fixed percentage on each minimum quantity of product purchased during a stated period of time.
Point-of-Purchase (POP) displays: – In order to promote a particular brand or group of products, manufacturers provide POP display units free to retailers. The forms of POP displays include special racks, display cartons, banners, signs, price cards, and mechanical product dispensers.
Push Money (PM) (also known as spiffs): – It is an extra payment given to retailer or salesman for meeting a specified sales goal.
Buy-back Allowance: -This method of promotion is practiced to prevent a post deal sales decline. Under this method, the producer offers a certain amount of money for additional new purchases based on the quantity of purchases made on the first trade deal.
Display and Advertising Allowance: – An advertising allowance is a dividend paid by a manufacturer to a dealer or distributor or reseller for advertising their product. This allowance is given on the basis of space provided to display the manufacturer's product in the shop, magazine or newspaper, TV shows, News Channels, etc. The money can only be used to purchase advertising—for example, to print flyers or run ads in a local newspaper.
Advertising Material: The advertising materials such as calendars, New Year diaries, literature, sign boards, packaging bags, posters, etc. are supplied by the producer of the product to the dealer or middlemen for advertising.
Dealers' Gifts: The producers give attractive free gifts to the dealer on the basis of products purchased by him. Some producers' offers free holidays family tours to dealers who place more orders.
Dealer-listed Promotion: -Under this method, dealer name and address is given on the advertisement and other publicity material as cleaners, diaries, etc. For example, the advertisement of Patanjali in newspapers carries the names of the stockists of their products. The consumer can buy the product from anyone of the listed dealers.
Suitable Credit Policy: – Under this method, producers allow credit to their dealers and distributors for a certain period. This enables them to maintain the stocks of various products in large quantity.
c) Salesmen-Oriented Sales Promotion
To make salesman's efforts effective, some of the tools of the salesmen-oriented sales promotion are as follows: –
Bonus to Sales Force: A quota of sale is fixed. The bonus is paid on achieving this sales quota. It is an additional financial reward to sales force (or salesmen) for achieving sales beyond a pre-determined level.
Sales Promotion Contest: – Sales force contests are announced to stimulate company salesman to redouble their interest and efforts over a stated period with prizes to be the top performer.
Sales Meetings and Conferences: – These are conducted by the manufacturers for the purpose of educating, inspiring and rewarding the salesmen and also to discuss their sales-related problems. New products and new selling techniques are also discussed in such meetings.
Free travels: – Travel awards are offered to efficient salesmen for free travel to hill stations, luxury resorts, etc.
Sales literature: – Salesmen are provided with printed sales literature such as brochures, leaflets, price lists, lists of reputed customers, etc. It helps the salesmen to convincing the potential customers to buy the goods.
Demonstration kits: – Salesmen are provided with demonstration kits. These contain model of product which enables the salesmen to demonstrate different parts and features of products to prospective customers.
Honor or recognition: – Efficient salesmen are given recognition in the form of appreciation letter from the company, honour in regional or national sales-meetings, photo in company's sales literature as achievers or club memberships, etc.
Latest E-Books