Agra Fort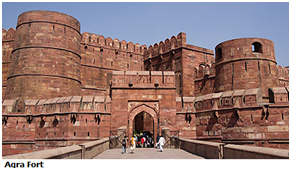 The Agra Fort was originally a brick fort of Hindu Sikarwar Rajputs. It was first captured by Ghaznavis in 1080 AD. Four centuries later, Sikandar Lodi would become the first Sultan of Delhi to live here (in 1488) and make it his second capital. Sikandar Lodi died in the fort itself and his son Ibrahim Lodi was able to sustain it for some 9 years before he was defeated and departed to the other world by forces of Babur. The Mughals were able to capture the huge treasures of this fort which also included the Koh-i-noor diamond, the one which did not impress Babur. Here, the coronation of Humayun took place in 1530. In 1540, Humayun was defeated by Shershah and for next 15 years, the fort remained with Suris. Later it was captured by Humayun again and remained the capital of Mughals for next three generations. Till the time Akbar conquered it, it was a brick structure called Badalgarh. During the times of Akbar, Red Sandstone was imported from Barauli area of Rajasthan and thousands of workers made it in a span of eight years.
The main material of the buildings in the fort were also red sandstone, but the only extant building is the Jahangir Mahal, the others were reconstructed entirely with white marble by Shah Jahan, such as the Khas Mahal and Diwan-i-Aam .
The Moti Masjid which was originally the Friday Mosque and Nagina Masjid the Royal Oratory, are also Shah Jahan's white mosques.