Yoga at Home, Yoga with Family campaign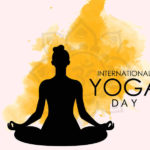 In the context of the current COVID-19 pandemic situation, the slowdown in daily activities and restrictions on the movement of people, this year's observance of International Day of Yoga will aim to highlight the health-building and stress-relieving aspects of Yoga. To facilitate this, the Ministry of AYUSH is organizing a trainer-led session which will be telecasted on Doordarshan on 21st June at 6:30 AM for people to follow and practice in solidarity.
In the new scenario, the trend that has emerged for observation of IDY is to focus on its health- rewards and to do Yoga at home on Yoga Day. The Ministry of AYUSH is supporting this trend by promoting the theme "Yoga at Home, Yoga with Family" in its IDY activities.
Every year, the 21st of June is celebrated worldwide as the International Day of Yoga (IDY). This year IDY comes in the middle of a health emergency. Hence the observation of IDY has become a search for good health and peace of mind.
The 45-minute Common Yoga Protocol (CYP) is one of the most popular Yoga programs across the world and has been at the heart of the IDY since the beginning. It was developed by a team of leading Yoga gurus and experts and includes safe practices to improve the physical, mental, emotional, and spiritual health of the population, which can be practiced at home on a daily basis.
The Ministry of AYUSH is encouraging the people to learn the Common Yoga Protocol using the resources made publicly available by the Ministry on the Yoga Portal, its social media handles, and the television. Prasar Bharati has initiated the daily telecast of the Common Yoga Protocol on DD Bharati from 08:00 a.m. to 08:30 a.m., from the 11th of June 2020.
This program is available on the AYUSH Ministry's Social Media handles as well. The purpose is to familiarize the public with the Common Yoga Protocol with the help of an audio-visual demonstration of the same through an electronic medium.
A video contest (My Life My Yoga Video Blogging Contest) with attractive prizes are also being organized in which the people are being encouraged to post their short video clips performing different Yogasanas. The "Yoga at Home, Yoga with Family" theme has already been adopted by numerous institutions and individuals across the country. Mysuru district administration in association with Yoga federation of Mysuru is organizing the IDY event with the participation of at least 1 lakh people, who will perform harmonious Yoga demonstrations from their respective terraces.
Month: Current Affairs - June, 2020
Topics: IDY • International Yoga Day • Yoga at home
Latest E-Books