Women bear uneven burden of family planning through sterilisation: NHM report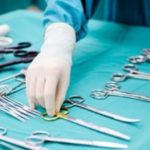 According to 11th report of Common Review Mission of National Health Mission (NHM), women bear uneven burden in family planning as they account for more than 93% of sterilisations in the country. The report was based on latest data from Health Management Information System (HMIS) where states upload data on various parameters of NHM including sterilisations. CRM is an external evaluation of the flagship NHM.
Key Highlights of Report
Women continue to bear uneven burden of terminal methods of family planning and sterilisation. In 2017-18 (till October) of the total 14,73,418 sterilisation procedures 93.1 % were female sterilisation (tubectomies) and only 6.8 % were male sterilisation (vasectomy).
This is marginal improvement from earlier years when women accounted for 98% of all sterilisation in the country. In 2015-16, of the total 41,41,502 sterilisations across India under government programmes, 40,61,462 were tubectomies. In 2014-15, out of 40,30,409 sterilisations, 39,52,043 were tubectomies.
The vasectomy or male sterilisation services still remain inadequately available across the country. Despite efforts to make male sterilisation more acceptable, it was found that non-scalpel vasectomy services are available in very few facilities and uptake is negligible in all states.
Vasectomy
Vasectomy or male sterilisation is process of cutting or tying vas deferens which is duct that carries sperm from testes to urethra so that it cannot be released for fertilisation. It is easier process than tubectomy (female sterilisation) which involves blocking or clamping of fallopian tubes so eggs do not reach uterus.
Reasons for low male sterilisation
Reluctance of Indian men to undergo vasectomy or sterilisation stems from history, social taboo and logistical limitations. Forced sterilisations during emergency have given this procedure of family planning bad name. Moreover, misinformation about it robbing men of their strength has made it social taboo and fact that there are no male health workers means these impressions cannot be corrected. Due to male dominate nature of India society, it is also difficult for ASHA worker in village to talk to men about sterilisation.
Month: Current Affairs - June, 2018
Category: Reports & Indexes Current Affairs
Topics: Common Review Mission • Family planning • National Health Mission • Social Issues • Sterilization • Tubectomy • Vasectomy • Women Empowerment • Women Related Issues
Latest E-Books