Why was a mass rally organised in Madrid?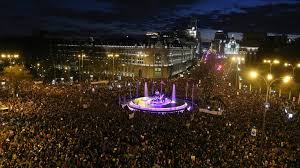 Massive demonstrations have been organised in Madrid, the capital of Spain in a huge show of strength for 12 Catalan activists and politicians who are facing trial for playing part in the organisation of a failed independence bid in 2017.
400 buses were used to carry people from the north-eastern part of Catalonia for participating in the gathering of the first rally of the separatists being held in Madrid. The central Paseo del Prado boulevard was all coloured in red, yellow and blue which form the colours of the Estelada flag of the independence movement of Catalan. This is seen as the loudest voice of the Catalan independence ever. Democracy and self-determination have become prominent phrases in the region of late. No longer is self-determination seen as a crime in Catalan. It is estimated that nearly 120,000 protestors have come out in streets against an estimated figure of 18000 by the police.
The defendants in the case are faced with decades in prison on charges of rebellion and also staging of a failed referendum in the October of 2017 and thereby declaring independence for Catalan even though they took no action for its implementation. Many people believe that the defendants are political prisoners. As per the lawyers of the defendants, the latter have been punished for their nationalist beliefs and voting for the same.
People who are facing trial basically hail from two dominant parties namely the Catalan Republican Left (ERC) and also the Catalan European Democratic Party (PDeCAT). In addition to this, leaders from the Catalan National Assembly and the Omnium Cultural which are pro-independence civil society organisations.
Catalan Leaders facing trial
It has been a year since the regional parliament of Catalonia has stood together and voted for its independence from Spain after a referendum which led the police from Spain to disperse the voters. Ever since then, all the pro-independence Catalan politicians have been detained in pre-trial on charges of rebellion, disobedience and also money fraud in addition to their roles in the referendum and also the declaration of independence from Spain. Former President of Catalonia Carles Puigdemont has already fled to Spain for the avoidance of all charges of lobbying for the independence of Catalonia in the European Union. If the detainees are awarded maximum sentences they will face a total of 200 years in prison. Oriol Junqueras, who is the former Vice-President is the highest ranked member of the former government of Catalan to face trial before the Spanish Supreme Court.
Category: Uncategorized
Topics: Assemblea Nacional Catalana • Autonomous communities of Spain • Carles Puigdemont • Catalan declaration of independence • Catalan independence movement • Catalonia • Estelada • Jordi Cuixart • Oriol Junqueras • Politics of Catalonia
Latest E-Books