What is 'Solar hamam'?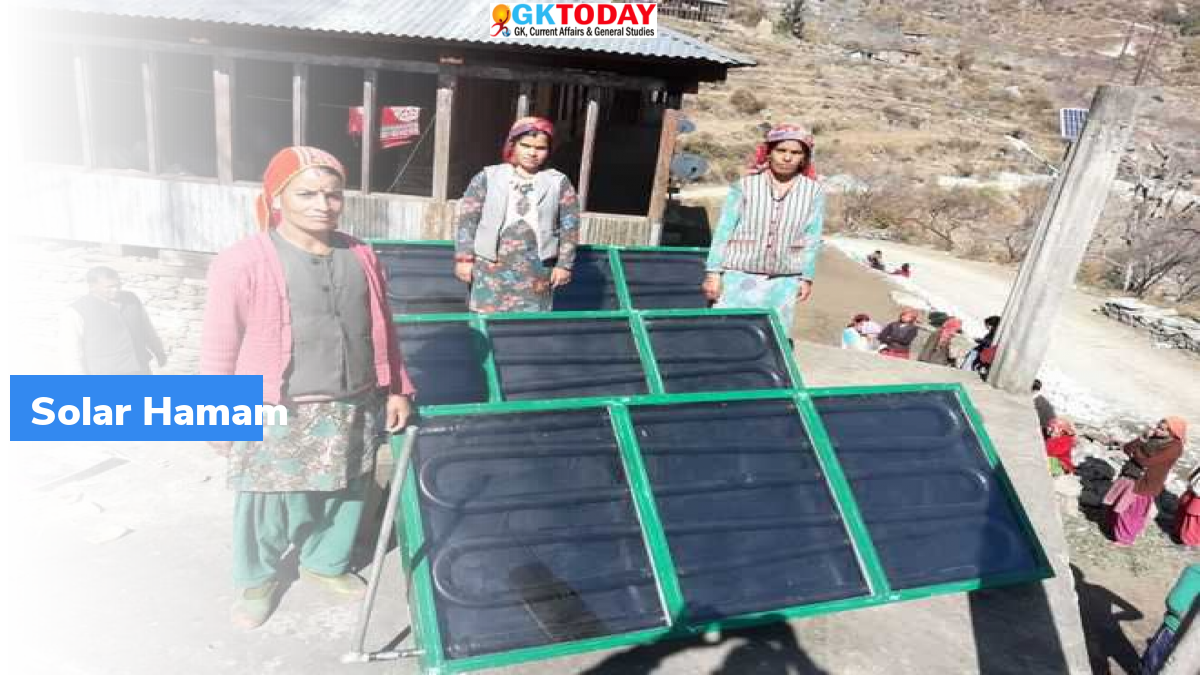 Solar Hamam, a locally designed and branded heating system is gaining popularity across the villages of Ladakh, Himachal Pradesh and Uttarakhand.
What is the aim of Solar Haman?
Solar Haman is aimed at providing clean energy solutions to households across mountainous regions. It seeks to conserve forests, free women from collecting fuel wood and mitigate carbon emission.
How this technology is significant?
Development of this technology is significant because households in the mountains depend on natural resources to get fuel, fodder, health, nutrition, agriculture, livelihood and employment.
As per 2011 census, around 85% of rural households in India depends on traditional biomass fuels.
At an altitude of 2000 meters in Himalayan region, winters are harsh and it's cold throughout the year. It compels households to rely on wood fires as the source of energy for up to 16-17 hours in a day. In this region, about 50% of collected wood is used in heating water and living spaces. It thus leads to degradation of forests.
Background
Development of simple and cost-effective solar water & space heating system was started in 2004 for rural households. In 2008, an artisan-fabricated prototype, the Solar Hamam, was developed. Solar Hamam was evaluated for performance, safety and maintenance across rural households. So far, more than 1,200 Solar Hamam systems have been installed in Himachal Pradesh, Ladakh and Uttarakhand.
What is Solar Hamam?
The Solar Hamam provides an anti-freezing outlet. It provides for 15-18 litres of boiling hot water, within first solar illumination of 30-35 minutes, at maximum temperature of 90°C in the morning.
Successive batches of hot water are available 15-20 minutes apart.
Post-installation maintenance for the solar hamam is minimal.
It is fabricated by rural artisans, mainly carpenters. Thus, it has also helped in generating employment.
The Solar Hamam had won "Himachal Pradesh State Innovation Award for 2016-17".
Month: Current Affairs - December, 2021
Category: Science & Technology Current Affairs
Topics: Heating System • Himalayan region of India • Solar hamam • solar water & space heating system
Latest E-Books