What are the Institutes of Eminence?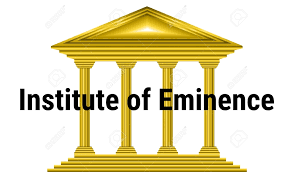 To promote higher education and research & development in the country, the Indian Government has decided to accord the status of Institutes of Eminence to several public and private universities in the country.  Hence, the University Grants Commission (UGC) has notified two separate set of guidelines for the private universities i.e. the 'UGC (Institutions of Eminence Deemed to be Universities) Regulations, 2017' and for public universities i.e. the 'UGC (Declaration of Government Educational Institutions as Institutions of Eminence) Guidelines, 2017'.
These guidelines will motivate the institutions of the nation to aspire for a higher standard in education and will provide a regulatory framework for the enabling of the Higher Educational Institutions (HEIs) to become globally renowned teaching and research & development institutions.
Objectives of the Institutions of Eminence
The main objectives of an Institute of Eminence would be to provide for a good higher education which would lead to excellence and innovations at all levels of education like the post-graduate, graduate and research degree levels.
The Institutes of Eminence will have to engage in several areas of specialization and will have to make distinctive useful contributions to the level of university education in the country.
The Institutes of eminence will have to develop the capacity & faculty of the students and the researchers to help them grow and make them more competent to compete with their global peers.
They will have to accomplish this through the acquisition, improvement, and creation of advanced knowledge from foreign and other renowned Indian institutes.
The Institutes of Eminence will have to provide a good atmosphere for the teaching of people and will have to aim for the dessimation of high-quality teaching and research.
This will have to done in-house by a substantial number of full-time faculty and research scholars in diverse specializations and the institutes will have to pay special attention to teaching and research in unique and emerging areas of knowledge.
These disciplines must also include various interdisciplinary areas which are essential for modern development.
Ove time, the Institutes will be motivated to improve their international rankings and will be motivated to rank as a top hundred Institution in the world over time.
Current Status
Currently, 20 institutions (10 public and 10 private) have been shortlisted to become institutes of eminence in the country. The public institutions will receive a monetary grant from the Indian Government.
Topics: Deemed university • Education • Higher education • Higher Education Commission • Higher education in India • Ministry of Human Resource Development • Private university • Public university • Rashtriya Uchchatar Shiksha Abhiyan • University Grants Commission
Latest E-Books