Waste Management Accelerator for Aspiring Women Entrepreneurs Summit
Published: September 19, 2019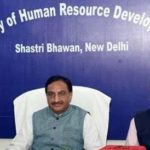 The Union Minister for Human Resource Development Shri Ramesh Pokhriyal launched several initiatives of All India Council for Technical Education (AICTE). The initiatives launched include Facilitation through Margadarshan and Margadarshak, Model Curriculum for Diploma Courses, Waste Management Accelerator for Aspiring Women Entrepreneurs (WAWE Summit 2019) and 360-degree Feedback of Faculty.
Facilitation through Margadarshan and Margadarshak
Margadarshan
Under the Margadarshan scheme, those institutions with good accreditation record / highly performing institutions are supposed to mentor relatively newer 10 – 12 potential institutions.
The institutions selected under Margadarshan scheme will be provided funding up to Rs. 50 lakhs over a period of three years in instalments for carrying out various activities like training, workshops, conferences and travel.
The scheme aims to diffuse best practices in the teaching-learning process followed in mentor institute to mentee institutions.
Margadarshak
Under the Margadarshak scheme, mentor teachers or Margdarshaks who are either serving or superannuated but willing and motivated with good knowledge of accreditation and can devote adequate time to make required visits to these Institutions are identified.
These Margdarshaks will regularly visit the mentee institutions, stay on their campus and guide them for their improvement in quality so that institutions are able to get accreditation by the NBA.
Model Curriculum for Diploma Courses
To ensure the job-readiness of the diploma students AICTE in association with All India Board of Technician Education (AIBTE) had constituted a subject-wise team of 3-4 experts drawn from academia and industry to prepare model curriculum for Diploma Courses in seven disciplines. The expert committee has come up with Model Curriculum keeping in view the latest industry trends and market requirements.
360-degree Feedback of Faculty
The 360-degree Feedback of faculty is obtained based online mechanism by mapping Teachers, Students and Subjects/courses. The online system will summarize & share the collected data for the Department/Institute/College management for giving increments and promotions for the teachers. AICTE will provide regulatory compliance to ensure transparency and fairness of the process.
Wawe Summit 2019
WAWE Summit 2019 is the largest gathering of young women students aimed at promoting entrepreneurship in waste management and providing alternatives to single-use plastic carry bags.
Indian Institute of Waste Management (IIWM) in association with All India Council for Technical Education (AICTE) will be registering the interested participants and guide them to connect from "Start Up India to Stand Up India".
The WAWE Summit will be held in November-December 2019 in Jaipur with the theme, Make your own bag – empowering women to take up income generation activity and entrepreneurship in waste management through making a business out of this record creating concept.
Category: Government Schemes Current Affairs • Summits and Conferences