Vocalist Sanjay Subrahmanyam conferred 2015 Sangita Kalanidhi award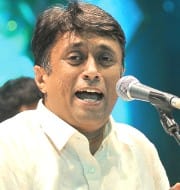 Foremost south Indian classical vocalists Sanjay Subrahmanyam has conferred with prestigious 2015 Sangita Kalanidhi award.
The prestigious award was bestowed upon him by renowned mathematician Manjul Bhargava at 89th annual conference of the Madras Music Academy in Chennai, Tamil Nadu.
With this, he became seventh artistes to be conferred with this award before completing 50 years of age. Others are Ariyakudi Ramanuja Iyengar, Musiri Subramania Iyer, Maharajapuram Viswanatha Iyer, Semmangudi R. Srinivasa Iyer, G.N. Balasubramaniam, M.L. Vasanthakumari and M. Balamuralikrishna
About Sanjay Subrahmanyam
By profession he is Charted Accountant but in 2000 became full-time musician. He had started performing Carnatic music from 1987.
Awards: Gaana Padhmam (2013), Vani Kala Sudhakara (2010) and the title Kalaimamani by Tamil Nadu Government (2006) etc.
About Sangita Kalanidhi award/title
It is a prestigious award bestowed annually upon an expert of Carnatic Music by the Madras Music Academy.
The award's name has been derived from Sanskrit which means treasure of Music and art in English. This honour is considered one of the highest awards in Carnatic music.
Topics: Art and Culture • Awards • Carnatic music • Current Affairs 2016 • Sanjay Subrahmanyam
Latest E-Books