Veteran Carnatic vocalist Nedanuri Krishnamurthy passes away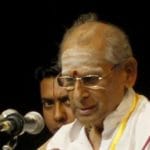 Veteran doyen of Carnatic music, Nedunuri Krishnamurthy passed away in Visakhapatnam. He was 87. He was famous for his tonal quality and a style of his own Carnatic music.
About Nedunuri Krishnamurthy
He was popularly known as Nedunuri and was born at Kothapalli in Pithapuram Taluk on October 10, 1927.
In early 1940's he received his initial rigorous training in Carnatic music (vocal and violin) from Late Sri Dwaram Narasinga Rao Naidu after he had joined the Maharajah's Music College at Vizianagaram.
He formed his own style of Carnatic music after he came under the influence of great master Sangita Kalanidhi Padmubhushan Dr Sripada Pinakapani, in 1949.
He had worked as the Principal of G V R Government College of Music and Dance, Vijayawada, Government College of Music and Dance, Secunderabad, M R Government College of Music and Dance, Vizianagaram and also worked on deputation at Sri Venkateswara College of Music and Dance, Tirupati.
Contributions to music: Some of his notable contributions to music include the setting to tune of 108 compositions of the 15th century saint-composer Annamacharya from Andhra Pradesh.
Awards: In 1991, he was conferred with the prestigious Sangita Kalanidhi by the Music Academy, Chennai.
Carnatic music: It is one of two main sub-genres of Indian classical music that evolved from ancient Hindu traditions. This traditional system of music is commonly associated with the southern India and found in four states- Andhra Pradesh, Karnataka, Kerala, and Tamil Nadu.
In Carnatic music the main emphasis is on the vocal music as most of its compositions are written to be sung. It is even played on instrument to perform it in singing style.
Month: Current Affairs - December, 2014
Topics: Current Affairs - 2017
Latest E-Books