Union Government launches satellite-based illegal Mining Detection System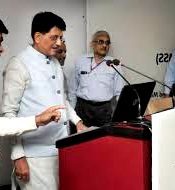 Union Government has launched Mining Surveillance System (MSS), a pan-India surveillance network to check illegal mining using latest satellite technology.
MSS is a satellite-based monitoring system which aims to check illegal mining activity through automatic remote-sensing detection technology in order to establish a regime of responsive mineral administration.
Mining Surveillance System (MSS)
Developed by Indian Bureau of Mines (IBM) in coordination with Bhaskaracharya Institute for Space Applications and Geo-informatics (BISAG), Gandhinagar.
One of the first such surveillance systems developed in the world using space technology. It has been developed under the Digital India Programme.
Why there is need of such system?
There are in total 3843 mining leases of major minerals across India, out of which 1710 are working mines and 2133 are non-working mines. Presently, there is absence of robust mechanism of monitoring of illegal mining activity. Current system of monitoring is completely based on local complaints and unconfirmed information which is not transparent and quicker response and action.
How MSS works?
In the MSS, Khasra maps of mining leases have been geo-referenced and are superimposed on latest satellite remote sensing scenes obtained from CARTOSAT & USGS.
It has capacity to check any unusual activity such illegal mining at a region of 500 meters around the existing mining lease boundary.
It has been incorporated with automatic software which leverages image processing technology to generate automatic triggers of unauthorized activities.
These automatic triggers will be studied at a Remote Sensing Control Centre of IBM and then transmitted to the district level mining officials for field verification.
Besides, a user-friendly mobile app also has been created for these officials to submit compliance reports of their inspections.
The mobile app aims to establish a participative monitoring system in which the citizens also can use this app and report unusual mining activity.
MSS also has an executive dashboard to work as a decision support system. Using it officials at all levels can track the current status of mapping of the mining leases, status of inspections and penalty levied etc. for all major mineral mining leases across the country.
Advantages of remote sensing technology based monitoring system
Transparent as public will be provided an access to the system.
Deterrence Effect as continues monitoring will be from space.
Bias-free and Independent as the system is based on technology evidences and has no human interference.
Quicker Response and Action as the mining areas will be monitored regularly and the sensitive areas will be monitored more frequently.
Effective Follow-up as action will be taken on triggers that will be followed-up and monitored at various levels
Month: Current Affairs - October, 2016
Topics: Digital India • Governance • Mining Sector • Mining Surveillance System • National
Latest E-Books