Union Government launches MAA, nation-wide breast feeding programme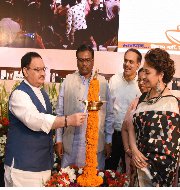 The Union Government has launched MAA (Mothers' Absolute Affection), a nation-wide breast feeding programme.
It was launched by Union Health Minister & Family Welfare J P Nadda along with Bollywood actress Madhuri Dixit who is brand ambassador of this campaign.
Key Facts
MAA is an intensified programme of the Union Health Ministry that aims to enhance optimal breastfeeding practices in the country.
It seeks to create an enabling environment to ensure that mothers, husbands and families receive adequate information and support for promotion of breastfeeding.
It has been launched in an attempt to bring undiluted focus on promotion of breastfeeding and provision of counselling services for supporting breastfeeding through health systems.
The programme has been named 'MAA' to signify the support a lactating mother requires from family members and at health facilities to breastfeed successfully.
The chief components of the Programme are (i) Community awareness generation, (ii) Strengthening inter personal communication through ASHA, (iii) Skilled support for breastfeeding at Delivery points in Public health facilities, and (iv) Monitoring and Award/recognition.
The Union Health Ministry has allocated 30 crore rupees for the Programme and 4.3 lakh rupees for each district for implementing the various activities under MAA programme.
Importance of Breastfeeding
The practice of breastfeeding is one of the important natural interventions for child survival as it enhances immunity level in child and can greatly help to reduce the under-five mortality rate.
Around 20% newborn deaths and 13% under-five deaths can be prevented by breastfeeding. Besides, breastfeeding can prevent child deaths associated with Diarrhoea and Pneumonia.
Infants who are not breastfed are 15 times more likely to die from pneumonia and 11 times more to die from diarrhoea than children who are exclusively breastfed. Breastfed infant also have higher intelligence quotient.
Month: Current Affairs - August, 2016
Topics: Government Initiatives • Government Schemes • MAA Programme • Public health
Latest E-Books