Union Government extends AFSPA in three districts of Arunachal Pradesh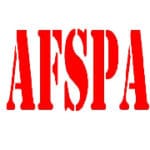 The Union Ministry of Home Affairs (MHA) has extended the Armed Forces Special Powers Act (AFSPA) in three districts of Arunachal Pradesh.
These districts are Tirap, Changlang and Longding. They have been "disturbed area" under Section 3 of the AFSPA.
Why AFSPA has been extended in these districts?
The Naga underground factions including National Socialist Council of Nagaland (Isak-Muivah)/ NSCN-IM and NSCN (Khaplang)/NSCN-K continue to indulge in extortion, area domination, recruitment of locals and inter-factional rivalry in these districts.
Background
The NSCN-IM had entered into a ceasefire agreement with India in 1997 after decades of violence. It is the largest group representing the Nagas.
It is demanding a "Greater Nagalim" or a contiguous land for Nagas, across the north-eastern states of Nagaland, Arunachal Pradesh, Manipur and Mizoram.
The NSCN-K (now banned ground) had unilaterally abrogated the ceasefire in March 2015 but NSCN-IM continues to be in a ceasefire pact with the Union Government.
Earlier in August 2015, the Union Government had signed a 'framework agreement' with NSCN-IM to find a final solution to the six-decade-old Naga issue.
What is Armed Forces Special Powers Act (AFSPA)?
The Parliament had enacted AFSPA in 1958 to confer special powers upon the armed forces in disturbed areas declared under the Act. It provides army officers and jawans legal immunity for their actions in disturbed areas.
Under this act, a member of the Indian armed forces cannot be prosecuted or tried in any criminal or civil court for any act committed by him or her while performing duty in a disturbed area. Moreover, no court or quasi-judicial body can question the government's decision to declare any area disturbed.
Presently, the AFSPA is in force in Assam, Jammu and Kashmir, Nagaland, Manipur (except Imphal municipal area), Arunachal Pradesh (in above 3 districts plus a 20-km belt bordering Assam) and Meghalaya ( along 20-km area bordering Assam).
Why provisions of AFSPA are objectionable?
It is necessary for a part of State to be handed over to the armed forces is for the Governor or the Central Government to notify it to be in a "disturbed and dangerous" condition.
Even a non-commissioned officer of the armed forces is free, on the mere suspicion of violation of the law or commission of an offence, to fire upon or otherwise use force, even to the causing of death, against any person.
He can also without any warrant, arrest any person and enter and search any premises. No prosecution of anyone indulging in excesses purporting to act under AFSPA is possible except with the previous sanction of the Government.
Month: Current Affairs - November, 2016
Topics: AFSPA • Arunachal Pradesh • internal security • National • States
Advertisement