Top GKToday's News Headlines- 7 December 2019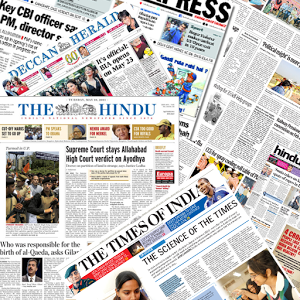 Here are the top News Headlines of 7 December 2019 for all competitive examinations of India.
National Current Affairs
Aberdeen Police Station in Andaman & Nicobar is the country's best police station: Centre
to set up FM transmitters in Sashastra Seema Bal (SSB) premises along the Indo-Nepal border
SC lifts its earlier interim order imposing a complete ban on construction, industrial activities in Taj Trapezium Zone (TTZ)
Mauritian PM Pravind Jugnauth visits India
BJP's K. C. Ramamurthy elected to the Rajya Sabha seat from Karnataka
Assam govt. launches Anti Depredation Squads in forests to avoid human-wildlife conflicts
24th International Film Festival of Kerala being held in Thiruvananthapuram from December 6 to 14
Jharkhand's Mahuamilan station becomes the country's 5500th station to get free wifi facility
Odisha CM distributes free laptops to Plus Two (+2) meritorious students under the 'Biju Sashaktikaran Yojana'
CITIZENSHIP BILL
Government to introduce the Citizenship (Amendment) Bill, 2019 in Parliament
The Bill proposes to amend the Citizenship Act, 1955
The Bill seeks to grant citizenship to undocumented non-Muslims (Hindu, Buddhist, Christian, Parsi, Jain and Sikh) from Bangladesh, Pakistan and Afghanistan who came to India on or before December 31, 2014.
Purpose of the Bill is to enable acquisition of Indian citizenship by persons who were forced to seek shelter in India due to persecution on grounds of religion
The Bill shall not apply to:
Tribal areas of Assam, Meghalaya, Mizoram and Tripura as included in the sixth schedule of the Constitution
States that are protected by the Inner Line Permit (ILP) — Arunachal Pradesh, Mizoram and Nagaland
Economy & Business Current Affairs
Foreign exchange reserves touch a new high of USD 451.08 billion in the week to November 29
National Stock Exchange appoints Girish Chandra Chaturvedi as its new Chairman
NEFT (National Electronic Funds Transfer) transactions to be available 24×7 from Dec 16, including holidays
The Kerala Bank, an amalgamation of district co-operative banks in the state, launched by the state's CM Pinarayi Vijayan
Hindustan Times Leadership Summit being held in New Delhi on December 6-7; theme: 'Conversations for a Better Tomorrow''
ONGC's USD 300 million medium-term note (MTN) issue listed on BSE's India International Exchange (India INX)
Bajaj Auto launches Husqvarna Vitpilen 250 and Husqvarna Svartpilen 250 motorcycles in India
DATA PROTECTION BILL
to introduce Personal Data Protection Bill in Parliament
It specifies rules on collection, storage, and processing of personal data, the consent of individuals, penalties and compensation, and a code of conduct.
It was prepared by a high-level expert committee headed by former SC judge Justice B.N. Srikrishna.
to notify categories of personal data as critical personal data
Personal data is to be stored in India, but can be processed outside with the consent of the person.
International Current Affairs
5th edition of annual 'MED – Mediterranean Dialogues' being held in Rome from December 5 to 7; EAM S. Jaishankar representing India
International Civil Aviation Day celebrated on December 7
Priyanka Chopra Jonas honoured for outstanding contribution to cinema at Marrakech Film Festival
Worth £40,000, Turner Prize is the biggest award in British art; jointly awarded to Oscar Murillo, Lawrence Abu Hamdan, Tai Shani and Helen Cammock in Margate (UK)
Oxford names 'Climate Emergency' as its 2019 Word of the Year
GLOBAL MIGRATION REPORT
Global Migration Report 2020 released by UN's International Organisation for Migration (IOM)
Number of international migrants in 2019 estimated at 270 million; US remains top destination at 50.7 million
At 17.5 million, India was the largest country of origin of international migrants in 2019
At $78.6 billion, India was the top receiver of overseas remittances in 2018; US was the top remittance-sending country at $68 billion
CLIMATE RISK INDEX
The Global Climate Risk Index was published by environmental think-tank Germanwatch on December 4, 2019
Japan was rated as the most-affected country in 2018 followed by the Philippines, Germany, Madagascar and India
The annual ranking measures the damage done by extreme weather to human life and economies.
Sports Current Affairs
Anthony Amalraj, Sutirtha Mukherjee win table tennis singles titles in South Asian Games in Kathmandu
Former India Table tennis head coach Bhawani Mukherji dies at 68; won Dronacharya Award in 2012
Category: Today's News Headlines
Latest E-Books