Top GKToday's News Headlines- 22 November 2019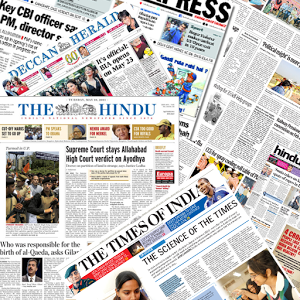 Here are the top News Headlines of 22 November 2019 for all competitive examinations of India.
National Current Affairs
PM unveils statue of Mahatma Gandhi at the CAG office premises in New Delhi
India to buy 13 MK45 Naval guns made by BAE Systems in US for $1.02 billion
'India for Humanity-Jaipur Foot' event organised at US Capitol building jointly by Indian Embassy and Jaipur Foot USA
'World Conference on Access to Medical Products: Achieving the SDGs 2030' organised in Delhi from November 19 to 21
All iconic tourist sites to have rooms dedicated for mothers visiting with young children: Culture Minister Prahlad Patel
Chandrayaan-2's Vikram lander hard-landed within 500 metres of the designated landing site: Govt.
Lieutenant Shivangi, first woman pilot of Indian Navy, to join Naval operations in Kochi on Dec 2
Microsoft launches 'K-12 Education Transformation Framework' to facilitate digital transformation of schools
Assam govt. to gift 10 grams of gold to every bride (family's annual income not more than Rs. 5 lakh) under its 'Arundhati Gold Scheme' from January 1, 2020
SEBI ORDER ON DISCLOSING DEFAULTS
SEBI has made it mandatory for all listed companies to make public disclosures on loans defaults.
Any default of payments of interest or principal on loans taken from financial institutions, including banks, will have to be disclosed if it continues beyond 30 days.
DISINVESTMENT
CCEA approves strategic disinvestment of the Centre's entire stake in BPCL, Shipping Corporation of India, THDC India (Tehri Hydro Development Corporation India Limited), and NEEPCO (North Eastern Electric Power Corporation Limited), and most of its stake in Container Corporation of India (CCI), while giving up management control in these companies.
Privatisation of BPCL will be without the company's equity shareholding of 61.65% in Numaligarh Refinery in Assam
Economy & Business Current Affairs
Vehicles without tag using FASTag lane at toll plazas will have to pay double toll from Dec 1
The Union Cabinet decided to defer spectrum payments dues of the telecom companies for 2020-21 and 2021-22
India and Japan ink agreement for expeditious grant of patents to Indian entities and individuals
AP Govt. signs agreement with IIM-Ahmedabad which will undertake a study to identify corruption in administration
Women allowed to work in night shifts in all factories (registered under the factories act) in Karnataka
MP Govt. decides to legalise cultivation of cannabis for medical and industrial purpose
International Current Affairs
GLOBAL TERRORISM INDEX
2019 Global Terrorism Index: India 7th in the list of countries most affected by terrorism
The 2019 Global Terrorism Index was released by the Sydney-based Institute for Economics and Peace (IEP)
The Index ranks 163 countries according to the impact of terrorism, based on factors such as the number of attacks, fatalities, injuries and the extent of property damage.
The country most affected by terrorism in 2018 was Afghanistan (7,379 killed)
NASA unveils its first electric airplane, the X-57 Maxwell
Russia passes bill allowing govt. to register bloggers, journalists and social media users as foreign agents
World Fisheries Day celebrated on November 21
World Television Day celebrated on November 21; the date on which the first World Television Forum was held in 1996
World Philosophy Day celebrated by UNESCO on November 21; is celebrated every year on third Thursday of November
Sports Current Affairs
India women team win final match at the Providence Stadium in Georgetown, Guyana; complete 5-0 sweep of T20I series
33-year old Chitharesh Natesan becomes the first Indian to be crowned Mr Universe 2019 at the 11th World Bodybuilding and Physique Sports Championship (WBPF) in South Korea
ISSF WORLD CUP
Indian shooters won three gold medals at the ISSF World Cup Finals in Putian, China
Winners were Manu Bhaker: women's 10m air pistol, Elavenil Valarivan: women's 10m air rifle and Divyansh Panwar: men's 10 air rifle
Category: Today's News Headlines
Latest E-Books