Top GKToday's News Headlines – 21 August 2019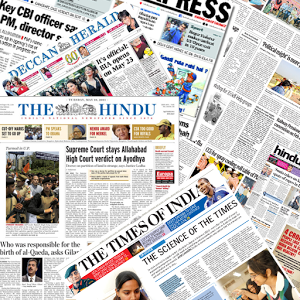 Here are the top News Headlines of 21 August 2019 for all competitive examinations of India.
India Current Affairs
Defence Minister Rajnath Singh holds telephonic talk with his US counterpart Mark T Esper
Defence Minister Rajnath Singh had a telephonic talk with US Defence Secretary Mark T Esper on August 20 during which he told Esper that issues concerning the scrapping of provisions of Article 370 of the Constitution were domestic matters of India.
DRDO transfers the design of Mobile Metallic Ramp (MMR) to the Indian Army
DRDO transferred the design of Mobile Metallic Ramp (MMR) to the Indian Army. MMR can handle load up to 70 metric ton (MT) and will help the Army in cutting time for mobilising armoured vehicles.
Birth anniversary of late Rajiv Gandhi celebrated as 'Sadbhavna Diwas'
An exhibition named 'Memories and Archives of Rajiv Gandhi' was inaugurated in New Delhi on the 75th birth anniversary of the former Prime Minister by Sonia and Rahul Gandhi. The day is celebrated as Sadbhavna Diwas (Communal Harmony Day). Also inaugurated was the Rajiv Gandhi Socio-Technical, Knowledge, Innovation and Learning Lab.
Chandrayaan-2 accurately injected in defined lunar orbit
India's second moon mission, the Chandrayaan-2 was accurately placed in pre-defined orbit. The spacecraft is scheduled to land on the Moon's surface on September 7.
Punjab govt. launches 'Mahatma Gandhi Sarbat Sehat Bima Yojana'
Punjab government launched the 'Mahatma Gandhi Sarbat Sehat Bima Yojana' health insurance scheme It integrates Centre's Pradhan Mantri Jan Arogya Yojana (PMJAY) for the underprivileged introduced in September 2018.
Economy & Corporate Current Affairs
BSE Sensex: 37,328.01 (–74.48), NSE Nifty: 11,017 (–36.90)
The crucial equity indicators reversed preliminary gains and finished with small losses. Rise in prices of shares of IT and automobile companies were nullified by declines in shares of banks
TVS Srichakra launches premium tyres brand 'TVS Eurogrip'
TVS Srichakra introduced brand 'TVS Eurogrip' aimed at serving the needs of the new age customer.
9th Session of India-Kenya Joint Trade Committee held in New Delhi
The 9thSession of the India-Kenya Joint Trade Committee (JTC) was co-chaired by Union Minister of Commerce & Industry and Railways, Piyush Goyal and Peter Munya, Kenya's Minister of Industry, Trade and Cooperatives.
TikTok to start move on safe use of user-created content platforms
Chinese mobile app TikTok said it will start a digital literacy programme to inform Indian internet users about safe and ethical use of user-generated content platforms. The aim is to prevent happenings of people endangering their lives to capture videos.
India's e-tourist visa fee based on tourist footfall; higher in peak season, less during lean period
India will launch a flexible e-tourist visa system based on number of tourist arrivals, with higher charge for July to March busy season and a substantially lower fee during April to June lean duration.
World Current Affairs
EAM S. Jaishankar meets Bangladesh PM Sheikh Hasina in Dhaka
External Affairs Minister S Jaishankar met Prime Minister of Bangladesh Sheikh Hasina in Dhaka. Objective of his tour was to emphasise the robust relationship between the two nations and make arrangements for Hasina's forthcoming trip to India.
Italian PM Giuseppe Conte to resign
Giuseppe Conte, Italy's PM, has decided to resign after telling parliamentarians that his deputy Matteo Salvini's selfish and reckless revolt has made his government untenable.
Sports Current Affairs
S Sreesanth's ban to end in August 2020, says BCCI Ombudsman
BCCI's Ombudsman has directed that the ban on Indian bowler S. Sreesanth imposed in 2013 for alleged spot-fixing when he was playing for Rajasthan Royals in PIL will cease in August 2020.
Category: Today's News Headlines
Latest E-Books