Top GKToday's News Headlines- 19 December 2019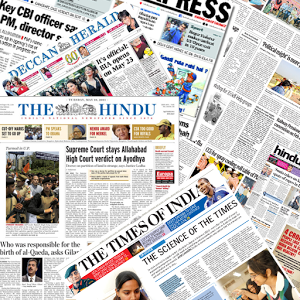 Here are the top News Headlines of 19 December 2019 for all competitive examinations of India.
National Current Affairs
'Manthan- Impeccable Academia" organised in New Delhi by Media and Entertainment Skills Council (MESC) and HRD Ministry
Eminent actor Shriram Lagoo dies at the age of 92 in Pune
Urdu writer Mujtaba Hussain to return his Padma Shri (2007) award
Braille edition of 'Exam Warriors', a book authored by PM Modi, released
Odisha Govt. launches 'Jalsathi' programme to ensure supply of safe drinking water
JSPL Foundation announces 27 winners of its 'Rashtriya Swayamsiddh Samman'
2019 SAHITYA AKADEMI AWARDS
Sahitya Akademi announced winners of 2019 Sahitya Akademi Awards in 23 languages
Winners in various categories are:
POETRY (7): Dr. Phukan Ch. Basumatary (Bodo), Dr. Nand Kishore Acharya (Hindi), Sri Nilba A. Khandekar (Konkani), Sri Kumar Manish Arvind (Maithili), Sri V. Madhusoodanan Nair (Malayalam), Smt. Anuradha Patil (Marathi) and Prof. Penna Madhusudan (Sanskrit)
NOVELS (4): Dr. Joysree Goswami Mahanta (Assamese), Sri L. Birmangol Singh (Beryl Thanga) (Manipuri), Sri Cho. Dharman (Tamil) and Sri Bandi Narayana Swamy (Telugu)
SHORT STORIES (6): Sri Abdul Ahad Hajini (Kashmiri), Sri Tarun Kanti Mishra (Odia), Sri Kirpal Kazak (Punjabi), Sri Ram sawroop Kisan (Rajasthani), Sri Kali Charan Hembram (Santali) and Sri Ishwar Moorjani (Sindhi)
NON-FICTION (1): Dr. Shashi Tharoor (English)
AUTOBIOGRAPHY (1): Dr. Vijaya (Kannada)
BIOGRAPHY (1): Prof. Shafey Kidwai (Urdu)
ESSAYS (3): Dr. Chinmoy Guha (Bengali), Sri Om Sharma Jandriari (Dogri) and Sri Ratilal Borisagar (Gujarati)
Economy & Business Current Affairs
GST council announces single rate of 28% on state-run and state-authorised lotteries
Import of gold and silver placed in 'restricted' category from the 'free' category: DGFT
ADB to provide USD 250 million loan to EESL (Energy Efficiency Services Ltd) to expand energy efficiency investments in India
NHAI launches 'FASTag Lagao Aage Bado, India Ko Aage Badao' TV commercial featuring Akshay Kumar
First Special Economic Zone (SEZ) in Tripura set up at Paschim Jalefa, Sabroom, South Tripura District
NCLAT orders reinstatement of Cyrus Mistry as Chairman of Tata Sons; was ousted in 2016
Patanjali Ayurved completes acquisition of bankrupt Ruchi Soya for Rs 4,350 crore; gets brands such as Nutrela, Mahakosh and Ruchi Gold
Piaggio launches electric three-wheeler Ape E-City at Rs 1.97 lakh
Devesh Srivastava appointed new CMD of General Insurance Corporation of India
INDIA-US 2+2 DIALOGUE
The second India-US 2+2 dialogue was held on December 18, 2019 at the Foggy Bottom headquarters of the State Department in Washington.
Participants included US Secretary of State Mike Pompeo, Defense Secretary Mark Esper, External Affairs Minister S Jaishankar and Defence Minister Rajnath Singh.
A wide range of bilateral, regional and global issues were discussed.
International Current Affairs
Defence Minister Rajnath Singh visits Naval Air Station (NAS) Oceana and Naval Station Norfolk in US
European Space Agency (ESA) launches Characterising ExOPlanets Satellite (CHEOPS) from Kourou, French Guiana on a three-year mission to study planets in other solar systems.
India (1,35,788) was world's third largest publisher of science and engineering articles after China (5,28,263) and US (4,22,808) in 2018: US National Science Foundation (NSF)
International Migrants Day celebrated on December 18
Arabic Language Day celebrated on December 18
Noted American vibraphonist and percussionist Emil Richards dies at 87
Fiat Chrysler Automobiles and PSA Peugeot announce merger deal
Tata Motors owned Jaguar Land Rover (JLR) acquires Bowler, a UK-based manufacturer of all-terrain performance cars
Sports Current Affairs
India beat West Indies by 107 runs in second ODI at Visakhapatnam
Former West Indies batsman Basil Butcher (3104 runs in 44 Tests) passes away at the age of 86
Category: Today's News Headlines
Latest E-Books