Top GKToday's News Headlines – 13 OCTOBER 2019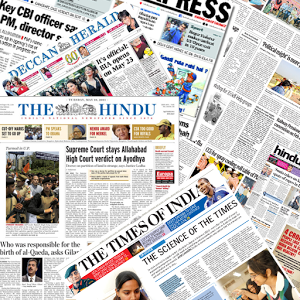 Here are the top News Headlines of 13 October 2019 for all competitive examinations of India.
National Current Affairs
India-Japan to organise Dharma Guardian military exercise in Mizoram from Oct 19 to Nov 2
India to offer e-Tourist visa of a 5-year validity to Chinese tourists with multiple entries from October 2019
Union Minister Sadhvi Niranjan Jyoti inaugurates SARAS Aajeevika Mela in New Delhi: October 12-23
Xi JINPING VISIT
Chinese President Xi Jinping was gifted a hand-woven portrait of his by Prime Minister Narendra Modi on the final day of the 2-day Mamallapuram Informal Summit on October 12, 2019.
The portrait was created by Sri Ramalinga Sowdambigai Handloom Weavers Co-operative Society in Sirumugaipudur in Coimbatore District.
The two leaders discussed several key issues, including ways to enhance trade and investment and confidence building measures
Economy & Business Current Affairs
India's foreign exchange reserves rise US$ 4.24 billion to US$ 437.83 billion in the week ended October 4
International Current Affairs
Lok Sabha Speaker Om Birla to lead Indian delegation at the Assembly of the Inter-Parliamentary Union (IPU) in Belgrade, Serbia from Oct 13 to Oct 17
Mastercard, Visa quit Facebook's global digital currency Libra
Hollywood actor Robert Forster dies at the age of 78 in Los Angeles
Typhoon Hagibis slams into Japan killing one
Turkish forces have taken control of the Syrian border town of Ras al-Ain from Kurds
Hazzaa al-Mansoori becomes UAE's first astronaut to return to earth after stay at the International Space Station
World Migratory Bird Day
World Migratory Bird Day was observed by UNEP on October 12, 2019.
This year's theme is 'Protect Birds: be the Solution to Plastic Pollution'.
The day is observed on 2nd Saturday of October.
Sports Current Affairs
Tajinder Pal Singh Toor breaks his national record in men's shot put by throwing 20.92m (previous 20.75 m) in Ranchi
Kenya's Eliud Kipchoge breaks 2-hour barrier (1 hr 59 min 40.2 sec) in men's marathon on a specially prepared course in Vienna.
Peter Gilchrist of Singapore wins men's world billiards championship in the long-up format in Melbourne.
WORLD YOUTH CHESS
The World Youth Chess Championship concluded in Mumbai on October 12, 2019 as India won 7 medals
U18 Open: Praggnanandhaa R. (IND) 9.0; Shant Sargsyan (ARM) 8.5; Artur Davtyan (ARM) 8.0
U18 Girls: Polina Shuvalova (RUS) 8.5; Vantika Agrawal (IND) 8.0; Alexandra Obolentseva (RUS) 7.5
U16 Open: Rudik Makarian (RUS) 8.5; Stefan Pogosyan (RUS) 8.0; Aronyak Ghosh (IND) 8.0
U16 Girls: Leya Garifullina (RUS) 8.5; Nurgali Nazerke (KAZ) 8.5; Anousha Mahdian (IRI) 8.0
U14 Open: Aydin Suleymanli (AZE) 9.0; Srihari L R (IND) 8.0; Sreeshwan Maralakshikari (IND) 8.0
U14 Girls: Meruert Kamalidenova (KAZ) 8.5; Divya Deshmukh (IND) 8.0; Rakshitta Ravi (IND) 8.0.
WOMEN'S WORLD BOXING
AIBA Women's World Boxing Championships being held at Ulan-Ude, Russia from October 3 to 13
India's Jamuna Boro wins bronze medal in 54kg after losing to Chinese Taipei's Huang Hsiao-Wen in the semifinal bout of the
India's Mary Kom wins bronze in 51 kg after losing in semifinal to Turkey's Busenaz Cakiroglu
India's Lovlina Borgohain wins bronze in 69kg after losing in semifinal to China's Yang Liu
Category: Today's News Headlines
Latest E-Books