Switzerland back India's bid for NSG membership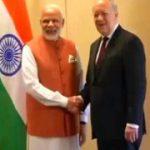 India has managed to win crucial support from Switzerland for Nuclear Suppliers Group (NSG) membership.
In this regard, Swiss President Johann Schneider-Ammann has announced his country's support for India's membership to the elite NSG.
India was able to gain support of Switzerland after Prime Minister Narendra Modi held comprehensive talks with Swiss counterparts during his official state visit.
Comment
This major diplomatic push for India's NSG membership comes at the time when the group at its plenary meetings to be held on 9th June 2016 in Vienna and 24th June 2016 in Seoul is going to take India's application for discussion.
Switzerland is a key member of the elite NSG and its support for India's bid for membership is seen as crucial in the backdrop of China's stiff opposition.
China is opposing India's bid to membership to NSG on the need for consensus as it is not a signatory to the Nuclear Non-Proliferation Treaty (NPT).
The NSG works under the principle of unanimity and even one country's vote against India may scuttle its bid. So far, US, Japan and many other member countries of NSG have strongly supported India's inclusion in the elite group based on its non-proliferation track record.
About Nuclear Suppliers Group (NSG)
NSG is a multinational body concerned with reducing nuclear proliferation by controlling the export and re-transfer of materials that may be used for development of nuclear weapons.
It was set up in 1974 as a reaction to India's first successful nuclear tests (code name Smiling Buddha conducted on 18 May 1974) to stop so called misuse of nuclear material meant for peaceful purposes. Currently, NSG has 48 members.
Month: Current Affairs - June, 2016
Topics: India-International Relations • india-switzerland • NSG • UPSC
Latest E-Books