SpaceX for first time successfully launches recycled rocket and spaceship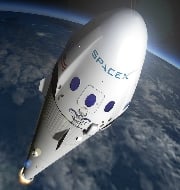 US based private rocket launching company SpaceX for first time ever has successfully launched used Dragon spacecraft with a used Falcon 9 rocket. The 2 pre-flown rocket parts were launched together for the first time as part of resupply mission to International Space Station (ISS).
Key Facts
The mission was SpaceX's 13th of 20 under a $1.6 billion contract with National Aeronautics and Space Administration (NASA). After the launch, SpaceX landed its rocket booster upright on solid ground at Cape Canaveral, Florida.
The used Dragon spacecraft was on its way to ISS. It carried 4,800 pounds of supplies for astronauts in ISS. So far, SpaceX has managed to return 20 of its rocket boosters after launch, whether on a floating ocean platform or on land as part of its effort to re-use instead of jettison costly components.
SpaceX
SpaceX (Space Exploration Technologies Corporation) is aerospace manufacturer and space transport services company headquartered in California, US.
It was founded in 2002 by Internet tycoon Elon Musk, CEO of Tesla Motors and former PayPal entrepreneur with the goal of creating the technologies to reduce space transportation costs and enable colonization of Mars.
SpaceX has developed the Falcon 1 and Falcon 9 launch vehicles, both designed to be reusable, thus reducing the cost of lauch. It also has developed Dragon spacecraft to supply cargo to ISS. It is also developing manned version of Dragon.
In 2008, SpaceX had created history by launching first privately funded, liquid-propellant rocket Falcon 1 to reach orbit in 2008. It also became first privately funded company to successfully launch, orbit and recover spacecraft (Dragon) in 2010. It was also first private company to send a spacecraft to ISS, in 2012.
Month: Current Affairs - December, 2017
Topics: cience and Technology • Dragon spacecraft • Elon Musk • Falcon 9 rocket • International • SpaceX
Latest E-Books