Solar Wind Farms along Indo – Pakistan border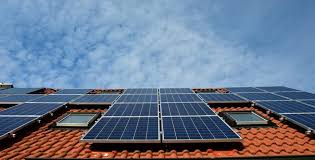 India has a target of 175 GW of clean energy by 2022. In order to achieve the target, India plans to set up solar and wind projects on fallow lands along the international border with Pakistan.
Currently India is generating 82,580 MW of solar power which is 23% of its total power production.
Key features of the project
A 30 km by 20 km wide parcel of land is identified along the border in Kutch district of Gujarat to implement the project.
As the land allocated is fallow, it will help tackle the problem of agricultural land being diverted for such projects.
The proposed energy power parks will generate 2,000 MW of energy each
The project is being constructed on deserted lands with no habitats.
Concerns and Solutions
The border where the project is to be implemented is fragile. Weapon funneling and hawala money operations are predominant in these areas. However, GoI has recently launched several steps to fortify border

CIBMS – Comprehensive Integrated Border Management System was launched to deploy technological solutions on pilot basis.
Smart Fencing
Solar Powered BSF posts – The border areas were fitted with solar power panels to help the jawans recharge their communication and safety gears. Earlier soldiers guarding the border had to travel 4 to 5 kms to charge their gadgets.
Also, other technologies like underground monitoring sensors, laser barriers, night vision devices, surveillance radar help monitor the border.

Recently, the renewable energy sector has been seeing steep fall. This is was mainly due to lack of interest from the investors and developers. The Solar Energy Corporation of India in September 2019 saw its last two auctions go under subscribed. The project is a boost for investors as the area and solar output planned is vast!
Significance
The GoI aims to meet the needs of the people living in the borders. In order to achieve this, GoI allocated 8,606 crores of rupees in 2018 to meet their needs. The umbrella scheme Border Infrastructure and Management that contains 60 projects includes tourism, cleanliness mission, supplying drinking water, community centers, drainage, supply of drinking water, etc. The Solar Power Grid will aid the projects by providing sufficient power.
Solar Power in India
Till August 2019, India's installed solar power was 30 GW. India has a potential of 5000 trillion KWhr per year. It exceeds the possible energy output of all fossil fuel energy reserves in India.
Till March 2019, of all the states Rajasthan leads in solar power producing 3,226 MW of solar power. It is followed by Punjab, UP, Uttarkhand and Haryana.
Month: Current Affairs - October, 2019
Topics: border development • Border Security • CIBMS • India solar • India solar energy • Renewable energy • renewable energy India • Solar power
Latest E-Books