Second SCO Mass Media Forum at Bishkek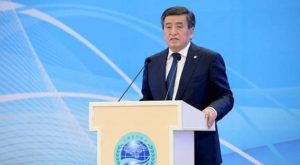 The Second Shanghai Cooperation Organization (SCO) Mass Media Forum is being held at Bishkek (Kyrgyzstan capital) from 23 to 26 May 2019.
Key Highlights of Forum
The SCO Forum was inaugurated by S. Jeenbeko, President of Kyrgyz Republic. During his inaugural address he highlighted importance of role played by Mass Media organizations of SCO countries in achieving SCO's objectives of regional security, mutual trust and friendly relations with neighbors in line with "Shanghai Spirit".
Participants: The representative of state bodies supervising mass media of SCO's Member States, Observer Countries, Dialogue Partner and representatives of leading mass media of SCO countries and representatives of SCO Secretariat are participating in Forum.
Adoption: SCO Member States adopted 'Resolution of Media Forum' which calls for establishing successful collaborations of Mass Media Organizations of SCO member Countries.
India and Forum:

A delegation from Ministry of Information & Broadcasting is representing India at international Forum.
Indian Delegation highlighted important played by Ministry of Information and Broadcasting in development of mass media landscape within nation. They also invited all SCO member delegates to upcoming Golden Jubilee edition of International Film Festival of India (IFFI) to be held in Goa in November 2019.
Suggestions by India-The delegation emphasized need for media collaborations and exchange of best media practices amongst different mass media organizations, agencies and associations across SCO partner states. It suggested that member states can undertake a media personnel exchange programmes along with joint international press conferences. Indian delegation also highlighted the idea of working together to counter problem of fake news.
About SCO Mass Media Forum
Background: The first SCO Media Summit was held on 1 June 2018 in Beijing, China. It was held under motto of "Development of the "Shanghai Spirit" and opening of a new era in the mass media cooperation". It saw participation of more than 110 media outlets from 16 countries including SCO Member States, Observer States and Dialogue Partners.
Objective: It aims to strengthen exchange and cooperation in field of mass media amongst SCO countries. It also seeks to create an objective vision of SCO and strengthen its positive image in global information space by offering a unique platform for active work via mass media.
About Shanghai Spirit
It is core value of the Shanghai Cooperation Organization (SCO) that has played significant role in safeguarding regional security and also promoting regional development.
The "Shanghai spirit" is about mutual benefit, mutual trust, consultation, equality, respect for cultural diversity and pursuit of common development among SCO members.
Month: Current Affairs - May, 2019
Topics: Bishkek • International Film Festival of India (IFFI) • Resolution of Media Forum • S. Jeenbeko • SCO Media Summit • Second Shanghai Cooperation Organization (SCO) Mass Media Forum • Shanghai Cooperation Organization (SCO) • Shanghai Spirit
Latest E-Books