Saudi Arabia opens up Armed Forces for Women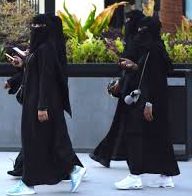 Saudi Arabia has opened up the armed forces for Women. Following the order, the female recruits can now trade their abayas for military uniforms.
Key Facts
Women will now be recruited as soldiers, lance corporals, corporals, sergeants, and staff sergeants.
The government has also added some additional criteria for female applicants.
This move aims to increase the rights of women in the country.
The plan to allow women in the armed forces was first announced in the year 2019.
Criteria for the recruitment
The female applicants are required to pass admission procedures in accordance with the specified conditions,
They should have a clean record.
They must be medically fit for service.
They should age between 21 and 40 years old.
A height of 155 cm or taller has been prescribed for the recruitment.
Further, the women should not be a government employee.
They are required to hold an independent national identity card.
She must have acquired at least a high school education.
However, the applicants married to non-Saudi citizens will not be eligible for the recruitment.
Women's rights in Saudi Arabia
Rights of the women in Saudi Arabia have been limited when compared to the rights of women in many of its neighbouring countries. There is a strict interpretation and application of sharia law in the country. However, in the year 2017, Mohammed bin Salman was appointed the Crown Prince. Since then, he has been bringing a series of social reforms witnessing the women's rights.
Status of Women
As per the World Economic Forum's 2016 Global Gender Gap Report, the Saudi Arabia was ranked at 141 out of 144 countries with respect to gender parity. The United Nations Economic and Social Council (ECOSOC) had elected Saudi Arabia to the U.N. Commission on the Status of Women for 2018–2022. This move was also widely criticised by the international community. As of 2019, Women just constituted 34.4% of the native workforce in the country. In the recent times, they have started various campaign that resulted in the improvements to their status.
Key decisions for women empowerment in Saudi Arabia
In the year 2015, Women were allowed to vote in elections.
They were also allowed to be appointed in the consultative assembly in 2015.
In 2017, women were allowed to access the government services like health and education.
The government allowed women to drive in 2017.
In 2019, women were given right to register the divorce.
In 2019, marriage age was capped at and above 18 years.
In 2021, it was decided that women can now be appointed as court judge.
Month: Current Affairs - February, 2021
Category: International Current Affairs
Topics: Kingdom of Saudi Arabia • Status women in Saudi Arabia • Women Empowerment • women in army
Latest E-Books