RBI Monetary Policy review: Repo rate lowest since 2010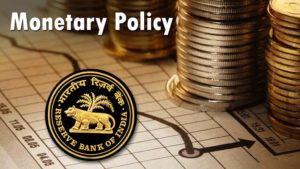 The Reserve bank of India (RBI) in its bi-monthly monetary policy review reduced repo rate by 25 basis points to 5.75% from current 6.0% with immediate effect. This is RBI's third cut this year and has reduced Repo rate at lowest since 2010.
Key Highlights
With Repo Rate adjusted to 5.75%, consequently Reverse Repo Rate under Liquid Adjustment Facility (LAF) stands adjusted to 5.5% and Marginal Standing Facility (MSF) rate and the Bank Rate to 6.0%.
Other revised Rates- Cash reserve ratio (CRR) unchanged at 4%; Retail inflation forecast raised marginally to 3% -3.1% for first half (H1) of 2019-20) and 3.4% -3.7% for second half (H2).
GDP Growth Rate: RBI lowered Gross Domestic Product (GDP) growth forecast for financial year 2019-20 to 7% from 7.2% in April Monetary Policy. This is in range of 6.4% to 6.7% for first half (H1) of 2019-20 and 7.2-7.5% for second half (H2) with risks evenly balanced. This lowered forecast was taking into account current weak global demand due to escalation in trade wars and weakened private consumption in rural areas.
The six member Monetary Policy Committee (MPC) headed by RBI Governor Shaktikanta Das unanimously decided to reduce policy repo rate and to change stance of monetary policy from neutral to accommodative.
MPC Composition: The MPC comprise of Shaktikanta Das, as its Chairman and members including Chetan Ghate, Pami Dua, Ravindra Dholakia, Michael Debabrata Patra, Viral Acharya. The next MPC meeting is scheduled from 5 to 7 August 2019.
In an attempt of boosting digital transactions, RBI decided to do away with charges levied on RTGS and NEFT transactions and banks will be required to pass this benefit to their customers.
Significance: The reduced repo rate was welcomed by industry body as this rate cut will encourage banks to lower their lending rates for both retail and corporate credits. This is important as reviving business confidence and consumer confidence in economy is need of hour.
Way Forward: Although measure will rekindle economic growth and improve business sentiments but credit policy resolution and RBI Governor's emphasis on faster and higher transfer of rate cuts will be reassured only if done by banks.
Month: Current Affairs - June, 2019
Category: Economy & Banking Current Affairs
Topics: Bank rate • Cash Reserve Ratio • CRR • Digital India • GDP Growth Rate • LAF • Liquid Adjustment Facility • Marginal Standing Facility • Monetary Policy Committee • MSF • NEFT • RBI Bi-monthly Monetary Policy Review • RBI Governor Shaktikanta Das • Repo Rate • Reserve Bank of India • Retail inflation forecast • Reverse Repo Rate • RR • RTGS
Latest E-Books