Pro-Khalistan group 'The Sikhs for Justice' banned by govt.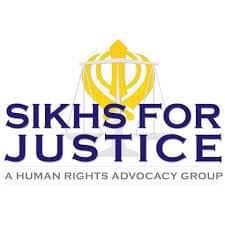 Pro-Khalistani group 'The Sikhs for Justice' (SFJ) has been banned by Central government for its alleged anti-national activities. In a recently held Union Cabinet meeting decision was taken to ban on Sikh fundamentalist organisation SFJ under Section 3 of Unlawful Activities Prevention Act (UAPA) for its alleged anti-national activities.
Reasons for ban given by government is that the Sikhs for Justice has been indulging in activities prejudicial to internal security of India and public order and have potential of disturbing peace and unity and integrity of country. Also, the group openly espouses cause of Khalistan and in that process challenges the sovereignty and territorial integrity of India.
About The Sikhs for Justice
It is a US-based Pro-Khalistani group that was formed in 2007.
It is headed by Avtar Singh Pannun and Gurpatwant Singh Pannun. The internal group of SFJ comprises of 8 to 10 people but, it's online support is close to 2 lakh.
SFJ primary objective: to establish an independent and sovereign country in Punjab.
It gained prominence only in last 5 years as it started advocating a separate Khalisatn state. For this purpose it also started an online secessionist campaign, 'Sikh Referendum 2020'. SKJ pushes for Sikh Referendum 2020 as part of its separatist agenda.
Cases Registered: Punjab Police has registered 10 different cases against SFJ and it's members, while National Investigation Agency (NIA) is also probing group in one case. But in all 11 cases, investigators found that SFJ was providing money and logistical support to local terrorists in Punjab to carry out subversive activities.
What is Unlawful Activities (Prevention) Act?
It is an Indian law which is aimed at effective prevention of unlawful activities associations in India.
Objective: to make powers available for dealing with activities directed against integrity and sovereignty of India.
UAPA was first framed in 1967, and since then it has been amended twice- first in 2008 and then in 2012.
Related Posts
Month: Current Affairs - July, 2019
Category: Defence Current Affairs
Topics: 'The Sikhs for Justice' (SFJ • Avtar Singh Pannun • Gurpatwant Singh Pannun • National Investigation Agency • Section 3 of Unlawful Activities Prevention Act • Sikh Fundamentalist Organisation • Sikh Referendum 2020 • Unlawful Activities (Prevention) Act
Latest E-Books