US President unveils Merit-Based Immigration System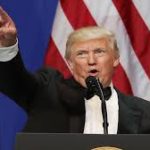 The United States President Donald Trump has proposed rolling out of a new immigration plan named 'merit-based immigration system'. The announcement was made in his recent immigration policy address speech in Rose Garden at White House.
Key Highlights
About: The new 'merit and point based immigration policy' recently proposed by US President Trump will replace the existing green cards (given by US) with 'Build America' visa.
Criteria: As per President Trump under the proposed system of merit-based immigration, the permanent legal residency would be given based on the individual's points for their age, civic sense, job opportunities and knowledge. Besides this all immigrants applying will be required to pass a civics exam prior to admission and learn English.
Benefits: The proposals will significantly increase quota for highly-skilled workers from existing nearly 12% to 57%. The merit-based immigration system will stand to benefit all the foreigners, including thousands of Indian skilled workers and working professionals wo are waiting to get permanent legal residency or Green Cards.
Difficulty: The proposals would still have to be approved by Congress where currently Democrats (opposition party to Trump's Republican Party) control the lower house.
Background
Every year United States issues about 1.1 million green cards, which gives foreign nationals life-time permission to work and live in US and also act a path to citizenship in five years. Currently most of cards are issued based on family links and diversity visa which favours applicants with family ties to the US. Under this current system only a small section of green card is given to people who are highly skilled and professionals.
Also President Trump has always taken a hard line view on immigration starting from 2016. Even in early 2019 he declared a national emergency on the US southern border (US-Mexican border), claiming of building the wall to halt all illegal migration.
Month: Current Affairs - May, 2019
Topics: Build America visa • Green Card • Merit and Point based Immigration Policy • President Donald Trump • Rose Garden • US Immigrant Issue • US-Mexican border • White House
Advertisement