PM Narendra Modi inaugurates exhibition marking 100 years of Champaran Satyagraha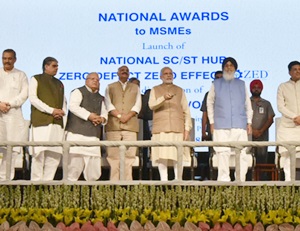 Prime Minister Narendra Modi inaugurated an exhibition titled "Swachhagraha – Bapu Ko Karyanjali – Ek Abhiyan, Ek Pradarshani" in New Delhi mark the 100 years (centenary year) of Champaran Satyagraha.
The exhibition will showcase Champaran Satyagraha and it will connect essential principles of Satyagraha with Swachhagraha. It will also showcase the ground covered by the Swachh Bharat Mission in creating a mass movement towards a clean India.
About Champaran Satyagraha
Champaran Satyagraha was Mahatma Gandhi's first experiment of Satyagraha. It was undertaken in the erstwhile undivided Champaran district in northern Bihar in April 1917.
It was undertaken after Mahatma Gandhi learned about the abuses suffered by farmers, who were forced into growing indigo by British planters and estate owners.
The tenants from Champaran were forced under the law to plant three out of every twenty parts of his land with indigo for his landlord under the so called Tinkathia system.
Initially, Gandhiji was reluctant to commit himself to the task but he was so persuaded by indigo cultivator Rajkumar Shukla that he decided to investigate the matter.
Gandhiji's plan was to carry out an extensive inquiry in the district and demand action based on its findings. However, local authorities did not find his visit welcoming and they unsuccessfully tried to dissuade him.
But Gandhi began his work from the house of Babu Gorakh Prasad in Motihari, headquarters of the then Champaran district.
During this time, Gandhij was served with a court summon while he was making a spot visit to village. Gandhiji was charged with violating law and was told to leave Champaran, but he refused to leave.
On April 18, 1917 when Gandhi appeared in Motihari Court and was accompanied by nearly 2000 local people. The magistrate wanted to defer the trial and resulted in the collapse of trial.
The then Lieutenant Governor of Bihar ordered the withdrawal of case against Gandhi, and the Collector wrote to Gandhi saying he was free to conduct the inquiry.
This small step in the form of passive protest was a giant leap forward in the history of freedom struggle and heralded the advent of Gandhian era.
His protest led to abolishing of exploitative tinkathia system. The victory at Champaran established Gandhiji in India's struggle against the British raj.
Month: Current Affairs - April, 2017
Topics: Celebrations • Centenary Year • Champaran Satyagraha • Events • History • Narendra Modi • National
Latest E-Books