PM inaugurates birth centenary celebrations of Rani Gaidinliu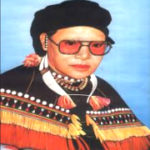 Prime Minister Narendra Modi on 24 August 2015 inaugurated birth centenary celebrations of freedom fighter Rani Gaidinliu.
On this occasion he launched commemorative coin of 100 rupees and circulation coin of 5 rupees of Rani Gaidinliu to mark her birth centenary celebrations.
About Rani Gaidinliu
Rani Gaidinliu was a Naga political and spiritual leader who had led a revolt against British colonial rule in India.
Her political struggle in present North east India was based on Gandhian principles of Satyagraha, non-violence, self-reliance. She also had played an important role in India's wider freedom movement by spreading the message of Gandhi ji in Manipur region.
She was born on 26 January 1915 in Nungkao (a Rongmei village) in northeastern state of Manipur. She died on 17 February 1993 in Longkao, Manipur.
Freedom struggle: She had participated in the freedom struggle at a very young age of 13 after she came under the influence Heraka religious movement.
Heraka religious movement: This movement which was launched by her cousin Haipou Jadonang initially to reform the Zealiangrong Naga communities.
But later it turned into a political movement seeking to drive out the British from Manipur and the surrounding Naga areas.
In this movement she was considered as incarnation of the goddess Cherachamdinliu.
Arrest: In 1932 at the age of 16, she was arrested and was sentenced to life imprisonment by the then British India Government.
Rani title: In 1937, Pandit Jawaharlal Nehru had met her at Shillong Jail and promised to pursue her release. During this time, Nehru gave her title of Rani (Queen) and since then she gained local popularity as Rani Gaidinliu.
After India's independence in 1947, she was released from the jail and continued to work for the upliftment of people till her death.
Awards and Honours: Freedom Fighter Tamrapatra (1972), Padma Bhushan (1982), Vivekanande Sewa Samman (1983), Birsa Munda Award (1966).
Postal Department has released commemorative postal stamp on her in 1996.
Union Government has instituted one of five Stree Shakti Puruskar in honour her in 2000.
In 2010, state owned Hindustan shipyard Ltd. had launched an in-shore patrol vessel for the Indian coast guard named as Rani Gaidinliu.
Month: Current Affairs - August, 2015
Topics: Current Affairs 2016 • Freedom Struggle • History • Manipur • Narendra Modi • Observances • Rani Gaidinliu
Latest E-Books