Philae comet lander wakes up from hibernation on Comet 67P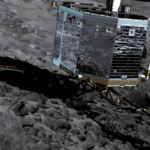 Philae comet lander has taken on the surface of Comet 67P (Churyumov-Gerasimenko) from seven-month hibernation.
It was announced by European Space Agency (ESA) after the comet lander managed to communicate with Earth for more than a minute.
In November 2014, Philae comet lander had created space history by becoming first to probe landed on a comet. The historic feat was achieved after it was dropped on to the surface of Comet 67P by its mothership Rosetta.
After successfully landing on the comet it had worked for 60 hours and had conducted experiments and transmitted that data to Earth  before going into hibernation after its solar-powered battery ran flat.
Probe resumed its communication on 14 June 2015 by sending about 300 packages of data to Earth via its mother ship Rosetta which is still orbiting the comet.
Timeline of Philae's journey
March 2004: ESA's unmanned probe Rosetta was successfully launched from Kourou, French Guiana.
February 2007: The probe carries out a close flyby of Mars.
September 2008: Probe successfully passes close to an asteroid 2867 located 400 million km from Earth.
July 2010: The probe transmits first pictures from the largest asteroid ever visited by a satellite Lutetia in between Mars and Jupiter.
August 2014: It swings alongside comet 67P situated in between the orbits of Mars and Jupiter.
November 2014: Philae lander successfully lands on comet after it is released from Rosetta.
Month: Current Affairs - June, 2015
Topics: Astronomy • Current Affairs 2016
Latest E-Books