Paris Agreement on Climate Change enters into force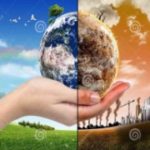 The Paris Agreement to combat climate change officially entered into force after 55 parties to the convention accounting for at least 55% of total GHG (greenhouse gas) emissions ratified it.
The threshold for entry into force of the Paris Agreement was achieved on 5th October 2016. At present, 94 parties have ratified the convention. India was 62nd country to ratify it on 2 October 2016.
What is Paris Agreement on Climate Change?
It is an international climate deal to combat climate change. It facilitates enforcement of global GHGs reduction measures in the post-2020 i.e. in post Kyoto Protocol scenario.
Under it, all countries must pursue to keep global temperature rising below 2°C by 2100 above pre-industrial levels with an ideal target of keeping temperature rise below 1.5°C.
It forces developed countries to provide 100 billion dollars annually to the developing counterparts beginning in 2020 to deal with climate change.
It empowers countries to determine how to cut their emissions but mandates that they report transparently on those efforts.
Now what?
The first session of the Conference of the Parties (COP) serving as the Meeting of the Parties to the Paris Agreement (CMA1) will take place in Marrakech (Morocco).
It will be in conjunction with the COP 22 to the United Nations Framework Convention on Climate Change (UNFCCC) meeting that is starting from 7 November 2016 .
The CMA1 meeting is expected to address matters relating to the implementation of the Paris Agreement like modalities, procedures and guidelines. It will also look at the status of ratification of the Paris Agreement.
Month: Current Affairs - November, 2016
Topics: Climate change • Environment • International • National • Paris Agreement
Advertisement